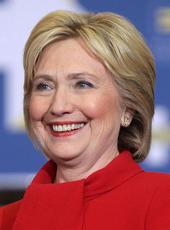 Hillary Clinton Campaign Press Release - My Trip To Flint, Michigan, With Hillary Clinton
... and a moment that will stick with me for the rest of my life.
In January, Hillary heard about the poisoning of the water supply in Flint and told us that we needed to act. A few hours later, I was on a plane heading to Michigan.
Michigan is a very special place to me. Before working for Hillary, I served as Senator Debbie Stabenow's chief of staff. I fell in love with the state—its beautiful landscapes, its tremendous manufacturing. I learned that grit and charm are at the heart of what it means to be from Michigan.
It's hard to describe in words what parents and kids are going through in Flint, but I immediately sensed the worry and frustration when I saw them eye to eye.
I saw Mayor Karen Weaver's determination to keep advocating on behalf of the community, even when others were saying she couldn't make a difference. I saw the relief of a local journalist when she realized that someone was finally listening to what she had been reporting for months. And I saw the deep faith of ministers in and around Flint, who were doing everything they could to guide their congregations through such tough times.
When I reported all of this to Hillary, she insisted on seeing it for herself.
Why? Because Hillary has spent her entire life fighting for families and for communities like Flint. She wanted to hear directly from the people who are being affected so that she could find ways to make a practical difference in their lives. This is what she does.
When Hillary got to Flint, we headed to a church. We sat together as she bore witness to the pain of a mom who has tried to shield her son from all the ills of the world, only to be invaded in her own home by poisoned water. At every meal, every bath, every turn—for nearly two years. She spoke with another mom who is now running to doctor's appointments while trying to help others who are even worse off than she is.
I don't even know how they got through their stories.
And no one could overlook the 6-year-old in the room, Jaylon. He's the same age as my own son, so his presence touched me personally. Jaylon loved taking pictures, and he spent the meeting snapping photos on his phone.?
It was hard for us to hear Jaylon's mom say how much she loved him, and how difficult it was for him without help at school. It was hard for Jaylon to hear, too. While his mom talked, he hid behind his phone. But when she was done, Jaylon peeked up and smiled at us. It made us all laugh—and we needed that.
When Jaylon was done taking pictures, we headed to the sanctuary—a room full of love, prayer, and cheers. Pastor Stewart welcomed Hillary to the pulpit, and she began: "This is the day the Lord has made ... "
" This is not merely unacceptable or wrong, though it is both. What happened in Flint is immoral. The children of Flint are just as precious as the children in any other part of America."
Hillary cares about all of our families and neighbors. That's why she assured the city's estimated 1,000 undocumented immigrants that they wouldn't be left out. And that's why she finished her speech with this:
" I will be there with you, and I will make sure in any way I can that America stays with you too. And I look forward to coming back to Flint, to seeing this community rise, rise again, rise with determination, resilience, support, service, leadership. We can do this."
Before saying goodbye, Hillary found Jaylon and his mother. Jaylon asked Barb Kinney, our campaign photographer, if he could try out her camera. She obliged.
With Hillary's leadership, we can work together and get Flint back on its feet. And if we do, I have no doubt that Jaylon's grit and charm will take care of the rest.
Jaylon takes a photo of Barb Kinney, the official campaign photographer.
Hillary Clinton, Hillary Clinton Campaign Press Release - My Trip To Flint, Michigan, With Hillary Clinton Online by Gerhard Peters and John T. Woolley, The American Presidency Project https://www.presidency.ucsb.edu/node/317256