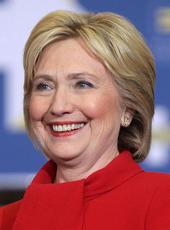 Hillary Clinton Campaign Press Release - Must Reads from the Campaign Trail
Local Coverage from Hillary's Trip to New Hampshire
Clinton Makes a Splash During Appearance at Keene High

By Anna Haigh

Keene Sentinel

February 12, 2007
"Clinton wrapped up her two-day trip to New Hampshire in Keene Sunday afternoon, where she spoke to hundreds of people at a town-meeting style forum. ...She touched on what she called the 'heartbreaking dilemma' in Iraq confronting the country, her plan to bring universal health care coverage to the country, the need to reduce dependence on foreign oil, and plans to help families and students by investing in preschool education and making college more affordable. ... Westmoreland resident Jean M. Darcy said she was impressed that Clinton didn't 'waffle' on any of her answers to questions posed by residents. 'Hillary was not my top person before tonight,' Darcy said. 'But I think she's very intelligent. I'm confident she can do it.'"
[[Click here] to read this entire article]
Hillary Launches New Hampshire Campaign in Berlin

By Barbara Tetreault

Berlin Daily Sun

February 12, 2006
"U.S. Senator Hillary Clinton said she chose Berlin to launch her New Hampshire campaign for president because she wanted to send a message that rural areas in this country are struggling. She noted that areas in upstate New York, which she represents in Congress, face similar challenges as the North Country of New Hampshire. 'I'm starting in the North Country for a simple reason -- I want to be a president who represents all of America. Our small towns, our rural areas, places that need some extra help and attention to be as prosperous in the 21st century as you were in the 20th century,' she said. Clinton attracted an overflow crowd to her town meeting at city hall Saturday. Befitting her status as the Democratic front-runner, she also attracted a large media horde. The national media coverage focused on her statements on Iraq. ...While Iraq gathered most of the headlines, questions from the audience touched a wide variety of issues."
[[Click here] to read this entire article]
If Bush Was the Anti-Clinton, Can a Clinton Be the Anti-Bush?

By Mike Pride

Concord Monitor

February 13, 2007
"Every New Hampshire primary campaign is a reaction to the presidency in progress. President Bush's unpopularity, the Iraq war fiasco and the Republican freefall in the last election have created a historic opportunity for Democrats. Hillary Clinton is determined to seize it. ...Mixed in with the Clinton faithful were many persuadable skeptics. It was these voters that Bill Clinton won over in New Hampshire in 1992. Here and beyond, his strategy was to unite liberals and independents. It is his wife's strategy, too. ...Eight years ago, George W. Bush capitalized on Clinton fatigue. Clearly, Hillary Clinton intends to return the favor, running for the White House on Bush fatigue. Her weekend tour of New Hampshire was a strong beginning."
[[Click here] to read this entire article]
Hillary Clinton, Hillary Clinton Campaign Press Release - Must Reads from the Campaign Trail Online by Gerhard Peters and John T. Woolley, The American Presidency Project https://www.presidency.ucsb.edu/node/292981