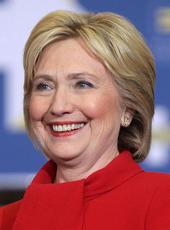 Hillary Clinton Campaign Press Release - A Math Teacher and a Scientist Share Why They Support Hillary Clinton—in Their Own Words
"I think it sends an amazing message."
Lolisa Wallace
Miami, Florida

Mathematician (and reigning Ms. Miami-Dade County)
Why did you go see Hillary speak in Miami?
I went because I want to be informed on the candidate I want to vote for. I am an advocate for education, I appreciate her policies—and I appreciate that she supports teachers.
What issue are you most concerned with in this election?
We have a high transient population here [in Miami], and as a teacher, I get kids all the time with stories. "This week we slept in our car," or "We are staying in my aunt's house because my dad got deported." I see them on a day-to-day basis. [Hillary] will do everything within the law to do something about it. She's not just selling a dream. She's said she will do everything possible to keep families together.
And as a resident of south Florida, global warming is also important. Climate change is real and sea levels are rising—she is going to work to make sure that our city stays afloat.
Josefina Batista
Miami, Florida

Retired high school biology and chemistry teacher
Why did you come see Hillary speak in Miami?
I have been a Hillary supporter and fan for decades. I voted for her in 2008, and when she didn't get the nomination I voted for Obama. I think she'll be able to continue the progress that President Obama has made.
You attended Hillary's speech on Cuba in Miami last July—what did you think?
She explained everything very well. You know how she is, she went into a lot of detail. She understands the differences within the community, those who have been here for years versus others who haven't been here for as long. Her knowledge was extraordinary. Nothing that I would do differently.
What issue keeps you up at night?
What worries me, as a scientist, is the environment. Climate change—and addressing it when we can do something about it—is my main issue. I live a few miles from the water, maybe three miles, so I live in a much higher elevation—13 feet, which is high for Miami! But whenever you go closer to the coast it's very obvious.
I'm also a very big feminist, I have two daughters and issues like equal pay are important to me.
Hillary Clinton, Hillary Clinton Campaign Press Release - A Math Teacher and a Scientist Share Why They Support Hillary Clinton—in Their Own Words Online by Gerhard Peters and John T. Woolley, The American Presidency Project https://www.presidency.ucsb.edu/node/317527