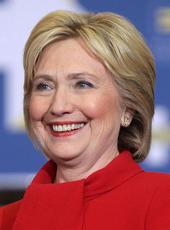 Hillary Clinton Campaign Press Release - Let's Get One Thing Straight: Hillary Clinton Has Been Fighting For Progressive Issues Her Entire Career
She's a progressive who gets things done.
Want to know what it means to be a progressive who gets things done? Just look at what Hillary Clinton has done—and what she's fighting to do.
Health care has been the cause of Hillary's career.
As first lady of Arkansas, she worked to expand health care access to rural parts of the state. And as first lady of the United States, Hillary did something unprecedented: She helped lead the fight for health care reform—and when it didn't pass, she worked with Democrats and Republicans in Congress to create the Children's Health Insurance Program, which currently provides 8 million low-income kids with health care. She kept fighting as a U.S. senator, securing health care for 9/11 first responders and expanding access to care for the National Guard, Reservists, and their families.
And she's not done. Hillary has a plan to make health care more affordable and get every American covered.
In 2010, Democrats finally achieved the health care reform they spent generations fighting for—and so far, 18 million Americans have gotten coverage, and millions more have received benefits like free preventive care and the promise that they'll never be denied coverage because of a pre-existing condition. We can't afford to tear it up and start over. That's why Hillary will defend the Affordable Care Act from Republicans who want to repeal or dismantle it (they've already tried 50 times). But she won't stop there—she also has a plan to lower out-of-pocket costs like co-pays and deductibles and make prescription drugs more affordable—and as president, she'll get it done.
Hillary has gotten one "F" in her life. It's from the NRA.
There's good reason for that: As senator, Hillary co-sponsored and voted for legislation to close the gun show loophole by requiring criminal background checks on all transactions taking place at events that sell firearms. Unlike Bernie Sanders, she voted against the dangerous immunity protections Congress provided gun dealers and manufacturers that prevent victims of gun violence from holding the gun industry accountable. And she co-sponsored and voted for legislation to extend and reinstate the assault weapons ban. Hillary has always stood up to the gun lobby—and that won't change as president.
Hillary has a plan to tackle the epidemic of gun violence in America—with or without Congress's help.
Hillary will fight to pass comprehensive background check legislation and to close the loopholes that help put guns in the wrong hands, including the gun show loophole and the loophole that let the Charleston shooter legally purchase a gun. She'll hold gun dealers and manufacturers accountable, repealing the gun industry's sweeping immunity from lawsuits. And she'll work to keep guns out of the hands of domestic abusers, other violent criminals, and the severely mentally ill.
Hillary has spent decades fighting to put higher education within reach for more people.
Making college affordable isn't just a campaign promise for Hillary—she's been working on it since her days as first lady of Arkansas. She helped found the Arkansas Single Parent Scholarship Fund, which has helped more than 38,000 people attend college. Then, as a U.S. senator, she introduced legislation to give students the option of income-based loan repayment. She also introduced a bill to make Pell Grants available year-round, so nontraditional students could afford to pursue their education during the summer months. And she co-sponsored legislation to help student borrowers refinance their loans.
She has a plan to make college affordable for every student who wants to attend (and for those who already attended).
Under Hillary's plan, students would never have to borrow money to pay for tuition to attend a four-year public college in their state. And the 25 million Americans with student debt will be able to refinance their loans at current rates—which could save borrowers thousands of dollars each.
Hillary has consistently voted for comprehensive immigration reform.
Hillary supported comprehensive immigration reform legislation every time it came up for a vote during her time as a U.S. senator. She co-sponsored the DREAM Act three times. As president, Hillary will fix our broken immigration system—with or without help from Congress.
As president, Hillary will finish the fight to ensure a fair and just immigration system.
That starts with comprehensive immigration reform once and for all, with a path to full and equal citizenship that treats every person with dignity. But if Congress refuses to act, she'll defend President Obama's executive actions that provide relief from deportation for DREAMers and their parents, and she'll do everything possible under the law to protect immigrant families, including a system for parents of DREAMers and others who have contributed to this country to make their case and be eligible for deferred action.
Hillary has been a lifelong champion for women and families.
Hillary has been fighting for women and girls since she graduated from law school: Instead of taking a job at a big law firm, she went to work at the Children's Defense Fund as an advocate for women and families. As first lady, she advocated for the Family and Medical Leave Act and worked to increase funding for child care. And as a U.S. senator from New York, she championed the Paycheck Fairness Act, co-sponsored the Lilly Ledbetter Fair Pay Act, and fought for legislation to guarantee paid sick leave and paid parental leave for all federal employees.
It's time to recognize that equal pay, paid leave, and affordable child care are economic issues—not women's issues—once and for all.
That's why, at the Democratic debate in Charleston, South Carolina, Hillary said that closing the wage gap would be one of her earliest priorities as president. She'll also fight for paid family leave, because the United States is the only developed country in the world without guaranteed paid leave of any kind. And she'll make quality, affordable child care a reality for families across the country.
Hillary Clinton, Hillary Clinton Campaign Press Release - Let's Get One Thing Straight: Hillary Clinton Has Been Fighting For Progressive Issues Her Entire Career Online by Gerhard Peters and John T. Woolley, The American Presidency Project https://www.presidency.ucsb.edu/node/317520