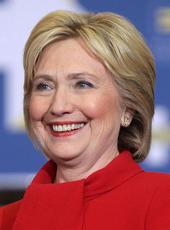 Hillary Clinton Campaign Press Release - An Insurance Company Dropped This Woman Because She Had a Stroke—and It Wasn't Against the Rules
And without the Affordable Care Act, this could happen again.
Aqualyn Kennedy had a stroke when she was 18 years old.
"I was walking to class, and all of a sudden the left side of my body went numb, and I couldn't form words," she says. "It was the first time I had ever been sick. I was so scared."
Aqualyn recovered from her stroke, but her health problems persisted.
A few years later, she began experiencing what she thought was horrible stomach pain. It turned out that her gallbladder needed to be removed, and she ended up spending a week in the hospital.
When her insurance company got the bill for her stay, she was dropped. Immediately.
Aqualyn says that even though the issue with her gallbladder was unrelated, her insurance company viewed her earlier health problems as a so-called "pre-existing condition"—which, at the time, was grounds for taking away her coverage.
Aqualyn was left without health care and responsible for paying the full bill for her week-long hospital stay. She tried to find a different company to cover her, but every time Aqualyn applied for coverage, she was rejected.
What the insurance company did to Aqualyn was allowed—and shockingly common.
Nearly half of Americans have pre-existing conditions—something they consulted with a doctor about or were treated for before they got coverage. More than 400 diagnoses or medical conditions can be considered pre-existing—from depression to cancer to pregnancy.
Before the Affordable Care Act was signed, there were no rules against what Aqualyn's insurance company did. And it happened to hundreds of thousands of people.
Insurance companies denied Aqualyn because her pre-existing condition made her too risky to cover. This was commonplace at the time: Between 2007 and 2009, the four largest health insurance companies in the country denied health care coverage to more than 600,000 people because of pre-existing conditions—and the percentage of applicants being rejected was rising sharply every year.
As first lady, Hillary Clinton fought against this kind of behavior from insurance companies.
Hillary believes that quality, affordable health care is a basic human right.
In the '90s, she fought hard to bring universal health care to the United States—and took on the insurance companies to do it.
When Congress defeated health care reform, she refused to give up, going on to help create the Children's Health Insurance Program, which now covers more than 8 million children.
Almost two decades later President Obama finally won the battle for health care reform and signed the Affordable Care Act.
Hillary and President Obama celebrating when the Affordable Care Act was passed.
The Affordable Care Act didn't just bring health care to 18 million Americans: It stopped insurance companies from rejecting people with pre-existing conditions.
Once health reform was enacted, Aqualyn was able to feel secure in her health care for the first time.
"I felt like a huge burden had been lifted off of my shoulders," she says. "My care was finally protected. I was so grateful that Secretary Clinton and the president were out there fighting to pass this law and speaking up for people like me," Aqualyn says. But a Republican president would repeal the Affordable Care Act, putting the health of millions of Americans in danger.
Just this week, both the House and the Senate voted to repeal the Affordable Care Act and let insurance companies return to rejecting people with pre-existing conditions.
We can't afford to let Republicans undo all of President Obama's hard work.
Hillary Clinton, Hillary Clinton Campaign Press Release - An Insurance Company Dropped This Woman Because She Had a Stroke—and It Wasn't Against the Rules Online by Gerhard Peters and John T. Woolley, The American Presidency Project https://www.presidency.ucsb.edu/node/317069