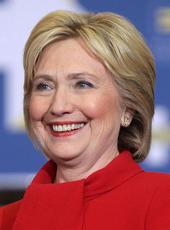 Hillary Clinton Campaign Press Release - Hillary for President: Internet Strategy & Initial Results
Campaign Memo
Peter Daou, Internet Director
Hillary Clinton for President Exploratory Committee
One of the lessons learned from recent campaigns is that the candidate who makes smart use of the Internet in 2008 will have a decided edge.
Just one week into our campaign, Hillary for President has used the web to announce Hillary's candidacy; webcast live video chats with Hillary and thousands of Americans for three consecutive nights this week; garner nearly 150,000 signups to the campaign; attract over 50,000 messages of support and thousands of submissions for Hillary's upcoming blog; and talk with nearly 35,000 people about health care through Yahoo's Answers program.
The result thus far has been this: Supporters are flocking to Hillary Clinton's presidential campaign website at an historic rate. All told, over 200,000 people have participated in the conversation in the first week.
Website Traffic
According to an analysis on Hitwise Intelligence, traffic to Hillary's campaign website (www.hillaryclinton.com) has been overwhelming. The analysis notes in particular that "Senator Clinton's website is showing a very strong representation with 18-24 year-olds, which could be good news for her campaign, as the 2008 election will almost certainly be strongly influenced by the web, and YouTube in particular."
[Click here] to see Hitwise's analysis of HillaryClinton.com's web traffic.
Website Features
Hillary's campaign site (www.hillaryclinton.com) includes innovative features that set it apart from other campaigns. In addition to announcing her candidacy online, Hillary used the site to:
Sign up 150,000 supporters: After going live Saturday morning, nearly 100,000 supporters signed up within 48 hours. Since then, members have signed up at a rate of roughly 10,000 each day, with an overall total of approximately 150,000 this week. These are historic numbers.
Webcast live video web-chats: Building on Hillary's plan to have a conversation with as many voters as possible, the site hosted live video webcasts on three consecutive nights this week, during which visitors could send in questions for Hillary to answer live on video. The webcasts attracted some 25,000 questions and 51,000 registrations over the three nights.
Enable ongoing communication with visitors: With the webcasts now complete, the site enables visitors to continue to communicate with Hillary by sending her a message of support or submitting a blog post (one of which will be chosen to be the first guest post when the blog goes live). Since going live on Saturday morning, the site has racked up 50,000 messages of support and 11,300 blog contest submissions.
Other Web Initiatives
The campaign has also reached out to blogs and other websites to continue Hillary's conversation with voters. For example:
Yahoo! Answers: Yesterday, Hillary held her first townhall meeting in cyberspace, using the Yahoo! Answers service to ask voters: "Based on your own family's experience, what do you think we should do to improve health care in America?" As of noon today, Hillary has gotten over 35,000 answers, making her question the second-most popular in the history of the service, and on pace to overtake Oprah Winfrey, whose question received 37,000 answers. Many of the responses have been long and detailed, containing anecdotes, policy ideas, and expressions of support.
Blog and Online Community Response: Hillary received positive coverage on blogs, message boards, and other online forums, and the campaign placed Blogads on hundreds of blogs from across the political spectrum.
In short, the foundation of Hillary's campaign will be to meet with as many voters as possible. Through an innovative web campaign, she will be able to have conversations with thousands of Americans each day.
Hillary Clinton, Hillary Clinton Campaign Press Release - Hillary for President: Internet Strategy & Initial Results Online by Gerhard Peters and John T. Woolley, The American Presidency Project https://www.presidency.ucsb.edu/node/316136