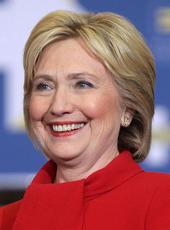 Hillary Clinton Campaign Press Release - Hillary for America Statement on Trump's Mass Deportation Policies
Hillary for America Latino Vote Director Lorella Praeli released the following statement on Donald Trump's attempt to mask his disastrous deportation policies:
"Make no mistake, Donald Trump has called for a 'deportation force' that would tear families apart and deport millions. Trump may try to mask his policies, but he's made clear that immigrants and Latinos have no place in his vision of America.
"Hillary Clinton has a plan to keep families together and has spoken out against large-scale raids. She will expand and protect the president's executive actions and has vowed to introduce comprehensive immigration reform in her first hundred days, while Trump has promised to conduct mass deportations and repeal the executive actions on DACA and DAPA."
BACKGROUND:
TRUMP CALLING FOR MASS DEPORTATIONWhen Asked How He Would Deport 12 Million Illegal Immigrants, Trump Said "You Do It. You Do It. Because They're Here Illegally, You Do It." BRZEZINSKI: "How do you deport 12 million? How do you deport 12 million illegal immigrants?" TRUMP: "You do it. You do it. Because they're here illegally, you do it. Now remember this. In 1952 Dwight Eisenhower, who was a nice man, right, I mean, whether people like him, don't like him, people thought of him as – remember the expression, 'I like Ike' – like mine's 'Make America great again.' I still like that one better. We could go 'I like Donald' but it doesn't work, right? But 'I like Ike.' That was his expression. Dwight Eisenhower sent millions of people - a million and a half at a minimum people out, illegal immigrants. He sent them out. And by the way, brought them out, brought them to the border, let them go, they came back. Let them go again, they came back. Let them go a third time, they came back. The fourth time he moved them all the way south, then they came back again." [Morning Joe, MSNBC, 11/11/15]
Trump On Undocumented Immigrants: "They Have To Go… We Either Have A Country Or We Don't Have A Country." TODD: So you're going to split up families? … You're going to deport children—" TRUMP: "Chuck. No, no. We're going to keep the families together. We have to keep the families together." TODD: "But you're going to keep them together out—" TRUMP: "But they have to go. But they have to go. … They have to go. Chuck, we either have a country or we don't have a country." [Meet The Press, NBC, 8/16/15]
Trump Said His Plan Was Not "Only Deportation," But "People Will Have To Go Out, They Are Illegal Immigrants." TRUMP: "Well first of all, it's not only deportation. It's building a wall and I mean a real wall. Mexico will pay for the wall. Most politicians wouldn't understand how you go about doing that. It will happen. It's basically quite simple. But it's going to be done in a very humane fashion. People will have to go out, they are illegal immigrants, they came in illegally. They have to go out and they have to come back legally. Bret, there will be a deportation, and hopefully they'll be able to come back into the country." [Special Report with Bret Baier, Fox News, 11/12/15]
TRUMP WOULD DEPORT ENTIRE FAMILIES USING A DEPORTATION FORCE
Trump On Deporting Families: "We Have To Keep The Families Together… They Have To Go." TODD: "You'll rescind that one, too? You'll rescind the Dream Act executive order, the DACA?" TRUMP: "We have to make a whole new set of standards. And when people come in, they have to come in–" TODD: "You're going to split up families. You're going to deport children?" TRUMP: "Chuck – no, no. No, we're going to keep the families together. We have to keep the families together." TODD: "But you're going to kick them out?" TRUMP: "They have to go." [Meet The Press, NBC, 8/16/15]
Donald Trump Said He Would Use A "Deportation Force" To Execute A Mass Deportation Of All Undocumented Immigrants In The U.S. "'But still tell me the how. Are you going to have a massive deportation force?' Brzezinski asked. Trump responded affirmatively: 'You're going to have a deportation force, and you're going to do it humanely, and you're going to bring the country — and, frankly, the people, because you have some excellent, wonderful people, some fantastic people that have been here for a long period of time.'" [Washington Post,11/11/15]
TRUMP HAS REPEATEDLY INSULTED HARD-WORKING IMMIGRANTS
Trump On Undocumented Immigrants: "Half Of Them Are Criminals." "'Remember,' Trump said, in a gross mischaracterization of undocumented immigrants, 'half of them are criminals.'" [Yahoo News, 1/24/15]
Trump: "When Mexico Sends Its People, They're Not Sending Their Best…They're Bringing Drugs. They're Bringing Crime. They're Rapists." TRUMP: "When Mexico sends its people, they're not sending their best. They're not sending you. They're not sending you. They're sending people that have lots of problems, and they're bringing those problems with us. They're bringing drugs. They're bringing crime. They're rapists." [Trump Presidential Announcement Speech, New York NY, 6/16/15]
Trump: "Druggies, Drug Dealers, Rapists And Killers Are Coming Across The Southern Border. When Will The U.S. Get Smart And Stop This Travesty?"[@realDonaldTrump, Twitter, 6/19/15]
Trump On Immigrants: "Some Are Good, Some Are Rapists, And Some Are Killers." BURNETT: "So you absolutely wouldn't change it, and specifically when you said they are rapists and some, I assume, are good people. But you don't have any regret about that." TRUMP: "Well, some are. Some are good, some are rapists, and some are killers. And we don't even know what we're getting. And they aren't just coming from Mexico. They are coming from all over. So certainly you know that's true. And from a common sense standpoint, you know that's true." [Erin Burnett OutFront, CNN, 6/25/15]
Trump On Illegal Immigrants: "I Don't Think It's A Small Percentage" That Are Rapists And Criminals. TAPPER: "And I think that what they're objecting to is the idea that, of the 11 million undocumented workers, illegal immigrants, whatever you want to call them, in this country, that you're painting them with a very broad brush, rapists, criminals, when that's probably a very small percentage." TRUMP: "No, no. Well, I don't think it's a small percentage. It's a lot. But it's not Mexicans, necessarily. They're coming from all over." [State Of The Union, CNN, 6/28/15]
Trump On Mexican Immigrants: "Do You Think They're Going To Send Us Their Best People And Their Finest People? The Answer Is No." HUNT: "In your speech today, you said that, quote, 'Some rapists are coming across the border with Mexico.'" TRUMP: "Absolutely." HUNT: "What did you mean by that?" TRUMP: "Well, you have rapist. They're sending us, not their finest people. They're sending us people and it's people other than from Mexico also. We have drug dealers coming across, we have rapists, we have killers, we have murderers. Why? Do you think they're going to send us – I mean, it's common sense. Do you think they're going to send us their best people and their finest people? The answer is no." [Politics Nation, MSNBC, 6/17/15]
Hillary Clinton, Hillary Clinton Campaign Press Release - Hillary for America Statement on Trump's Mass Deportation Policies Online by Gerhard Peters and John T. Woolley, The American Presidency Project https://www.presidency.ucsb.edu/node/318830