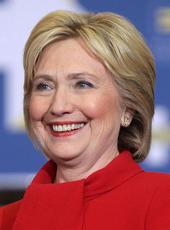 Hillary Clinton Campaign Press Release - Hillary for America Senior Policy Adviser Jake Sullivan Reaction to Putin's Comments on U.S. Election
Hillary for America Senior Policy Adviser Jake Sullivan released the following statement today in reaction to Vladmir Putin's new comments on the U.S. election:
"Vladmir Putin just confirmed that Donald Trump is carrying Russia's water with his pro-Putin wish list of policies, and the only question left is whether he will follow through for the Kremlin. Putin is trying to put his thumb on the scale through cyber-attacks aimed at influencing the election because he knows that Hillary Clinton will stand up to him.
"It is baffling that his campaign finds cyberattacks on America 'refreshing' and 'diligent' while continuing to coddle Russia and its leader. Given the alarming set of facts, it's time for Donald Trump to condemn this modern day Watergate and disclose all of his campaign's connections to Russia and WikiLeaks."
Hillary for America released a Medium post yesterday on the Russian hack that Donald Trump refuses to admit or condemn laying out an important question that voters deserve to know - "What did Trump know, and when did he know it?" Read it here.
The campaign also released a new video cataloguing Trump's disturbing connections to Russia and why they are so concerning. Watch it here.
Hillary Clinton, Hillary Clinton Campaign Press Release - Hillary for America Senior Policy Adviser Jake Sullivan Reaction to Putin's Comments on U.S. Election Online by Gerhard Peters and John T. Woolley, The American Presidency Project https://www.presidency.ucsb.edu/node/318818