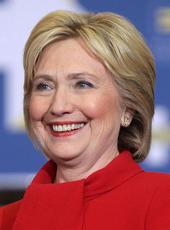 Hillary Clinton Campaign Press Release - Hillary for America Response to Trump Saying Clinton Did Not Look Presidential
In response to Donald Trump's repeated claim that Hillary Clinton does not look presidential, HFA Deputy Communications Director Christina Reynolds offered the following statement:
"This isn't the first time Donald Trump has had a problem looking at someone different from himself and actually seeing them. He questioned whether a distinguished judge could do his job because of his Mexican heritage. He looked at a mourning Gold Star mother and he made assumptions about her silence in grief. He looked at an accomplished anchor and suggested she was a "bimbo." And he looked at a sitting president and said he wasn't American. So it's not surprising that Donald Trump doesn't think Hillary Clinton looks presidential. This cycle, voters know all too well what's not presidential: Donald Trump and his narrow views and divisive rhetoric."
TRUMP LAUNCHED A SERIES OF RACIALLY TINGED ATTACKS ON A FEDERAL JUDGE, SAYING HE COULD NOT DO HIS JOB BECAUSE HE WAS OF MEXICAN HERITAGE
Trump: "He's A Mexican. We're Building A Wall Between Here And Mexico… He Is Giving Us Very Unfair Rulings, Rulings That People Can't Even Believe." TRUMP: Do you know that these people went to every attorney general practically in the country that they could and did you know this case was turned down by almost every attorney general from Texas to Florida, to many other states?
TAPPER: Is it not – when Hillary Clinton says this is a racist attack, and you reject that – if you're saying he can't do his job because of his race, is that not the definition of racism?
TRUMP: No. I don't think so at all.
TAPPER: No?
TRUMP: No. He's proud of his heritage. I respect him for that.
TAPPER: But you're saying you can't do his job because of that.
TRUMP: Look, he's proud of his heritage, OK? I'm building a wall. Now, I think I'm going to do very well with Hispanics
TAPPER: He's a legal citizen – TRUMP: Do you know why I'm going to do well with Hispanics? Because I'm going to bring back jobs and they are going to get jobs right now. They are going to get jobs. I think I'm going to do very well with Hispanics. But we are building a wall. He's a Mexican. We're building a wall between here and Mexico. The answer is, he is giving us very unfair rulings, rulings that people can't even believe. This case should have ended years ago in summary judgment. The best lawyers I have spoken to so many lawyers, they said, this is not a case. This is a case that should have ended. [CNN, The Lead, 6/3/16]
A List of Each Time Trump Attacked Judge Curiel for His Mexican Heritage. Fusion outlined "every time that Trump said that Curiel could not be impartial in the case precisely because of his Mexican heritage."
TRUMP SUGGESTED GHAZALA KHAN DID NOT SPEAK AT THE CONVENTION BECAUSE SHE WAS NOT ALLOWED TO
Trump Claimed The Mother Of A Fallen Muslim Soldier Did Not Speak At The Democratic Nation Convention Because "Maybe She Wasn't Allowed To Have Anything To Say, You Tell Me." "Donald J. Trump belittled the parents of a slain Muslim soldier who had strongly denounced Mr. Trump during the Democratic National Convention, saying that the soldier's father had delivered the entire speech because his mother was not 'allowed' to speak…But, he added, 'If you look at his wife, she was standing there, she had nothing to say, she probably — maybe she wasn't allowed to have anything to say, you tell me.'" [New York Times, 7/30/16; This Week, ABC, 7/31/16]
TRUMP SUGGESTED MEGYN KELLY WAS A BIMBO AND RETWEETED A USER WHO CALLED MEGYN KELLY A "BIMBO"
Donald Trump: "I Refuse To Call Megyn Kelly A 'Bimbo,' Because That Would Not Be Politically Correct. Instead I Will Only Call Her A Lightweight Reporter!" [@realDonaldTrump, Twitter, 1/27/16]
Donald Trump Retweeted Several People Calling Kelly a "Bimbo:"here, here and here.
TRUMP LED THE BIRTHER CONSPIRACY, AND MAINTAINED HE DIDN'T KNOW WHETHER PRESIDENT OBAMA WAS BORN IN THE US
2015: Trump Said He Didn't Know Whether President Obama Was Actually Born In The US. "Donald Trump says he's still not convinced President Obama was born in America, but that he's not interested in rehashing the issue. 'I don't know. I really don't know,' the 2016 Republican presidential candidate told CNN when asked on Thursday. 'I don't know why he wouldn't release his records.'" [The Hill, 7/9/15]
USA Today: Trump "Was Perhaps The Most Prominent Voice Of The 'Birther' Movement." "Trump has been an outspoken critic of President Obama and was perhaps the most prominent voice of the 'birther' movement, which asserted, erroneously, that Obama was not a natural-born U.S. citizen. On Monday, he took a shot at the newest entrant to the 2016 Republican field, Jeb Bush, tweeting: 'Do we really need another Bush in the White House — we have had enough of them.' If there's one thing Trump brings to the 2016 campaign, it's confidence. 'I'm the most successful person ever to run for the presidency, by far,' he told The Des Moines Register in a recent interview." [USA Today, 6/16/15]
TRUMP SAID CLINTON DIDN'T "LOOK PRESIDENTIAL"
In an ABC interview, Trump Said Clinton Didn't Have a Presidential Look. "I just don't think she has a presidential look. And you need a presidential look. You have to get the job done," Trump said. [ABC, 9/5/16]
Donald Trump Reportedly Said "Does She [Clinton] Look Presidential, Fellas? Give Me A Break." "CLEVELAND – TRUMP on Clinton: "Does she look presidential, fellas? Give me a break."" [Kevin Cirilli, Twitter, 9/5/16]
Trump: "In Effect, She's Pledging To Abolish The Law Making Powers Of Congress And Assume The Powers Of An Imperial Leader. She's Not An Imperial Leader, Is She? I Don't Think So. She Doesn't Even Look Presidential To Me." TRUMP: "Beyond that, she's pledged to add another executive amnesty in violation of both congressional law and the United States constitution. These actions from Hillary Clinton will trigger a crises greater than almost anything we've seen. This will be a constitutional crisis like we haven't seen in our country. In effect, she's pledging to abolish the law making powers of congress and assume the powers of an imperial leader. She's not an imperial leader, is she? I don't think so. She doesn't even look Presidential to me. She certainly doesn't." [Roast N' Ride, Des Moines IA, 8/27/16]
Trump: "You See Her Walk Onto The State, She Looks Presidential.' I Don't Think So. I Think I Look Presidential To Be Honest With You. Honestly, Who Do You Think China Would Be More Concerned In A Negotiation With? Trump Or Hillary?" TRUMP: "These [people] are not like, 'Oh gee, I think Hillary is so great. She looks so presidential. You see her walk onto the state, she looks presidential.' I don't think so. I think I look presidential to be honest with you. Honestly, who do you think China would be more concerned in a negotiation with? Trump or Hillary?" [Trump Campaign Rally, Fort Lauderdale FL, 8/10/16]
Trump Said Hillary Clinton Did Not Look Presidential, But He Did. TRUMP: "Now you tell me she looks presidential, folks. I look presidential. You tell me, you tell me she looks Presidential. They are just watching and they're looking and boy they're salivating, they're salivating, they're saying that's what we want, oh, that's what we want. You know what she did and the lies that she told, over and over again, and her single greatest achievement, because everything she's touched has turned bad." [Trump Campaign Rally, Windham NH, 8/6/16]
Trump: "Bad Performance By Crooked Hillary Clinton! Reading Poorly From The Telepromter! She Doesn't Even Look Presidential!" [@realDonaldTrump, Twitter, 6/2/16]
Hillary Clinton, Hillary Clinton Campaign Press Release - Hillary for America Response to Trump Saying Clinton Did Not Look Presidential Online by Gerhard Peters and John T. Woolley, The American Presidency Project https://www.presidency.ucsb.edu/node/318785