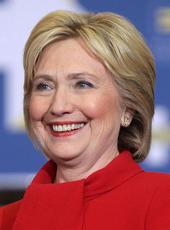 Hillary Clinton Campaign Press Release - Hillary Clinton's Campaign Just Hit a Major Milestone: a Million Donors
Be one in a million.
Hillary Clinton's campaign just hit a major campaign milestone: One million people from all over the country have donated to help elect Hillary our 45th president—with the majority giving $100 or less.
Everyone has their own reasons for supporting Hillary—and thousands of people have shared their stories with the campaign.
Like Brandon from Nebraska, who sent this note with his donation:
" My fiance and I were both diagnosed with chronic illnesses when we were very young, but because Hillary fought so hard to ensure CHIP was passed, our families didn't have to choose between buying groceries or buying medicine."
Hannah from Indiana:
" In 1995, the year I was born, Hillary Clinton made a revolutionary speech, proclaiming "women's rights are human rights". I heard it many years later, but it has inspired me every day since then to keep reaching higher. Hillary is a role model and an icon, who I know has inspired thousands of women like myself. As someone growing up with health problems, quality health care is important to me. Hillary is the only candidate I trust to improve our health care system. Now I'm navigating my way through college (and soon law school, like Hillary!), and I believe wholeheartedly in her plan to improve student debt. Her policies on gun safety, reproductive rights, climate change, education, immigration, her economics initiatives, and so much more made the choice to support her easy. I am happy to fight every day to elect Hillary Clinton, because I know she will fight for not only me, but this entire nation."
Cathy from Arizona:
" I was recently laid off from my job. I'm approaching retirement age and I'm struggling to pay my 90k in student loans. I believe Hillary will continue the work that President Obama started seven years ago to strengthen our economy and create new jobs. She will also protect women's rights, and work to reform the financing of student loans, because there is something very wrong when the interest rate on my student loan is higher than on my car loan. I haven't been able to give a much as I'd like to Hillary's campaign, but I have offered my time and talents in other ways to help get her elected. She IS truly the BEST candidate for America! I can't wait to refer to her as Madam President."
And Regina from Florida:
" My grandmother got her start as a teacher during the Japanese invasion of the Philippines during WWII. She moved to the U.S. when I was born to help out my mother, who worked full time. We lost my grandmother a couple years ago but she would have loved what Secretary Clinton stands for. I try to do her justice and stand up for the values she held so dear to her heart: fairness, equality and opportunity."
You can read more stories here.
People from all walks of life—and every corner of the country—are building this campaign $5, $10, and $20 at a time. They're coming together to elect the candidate who is fighting to break down all of the barriers that hold people back—and build ladders of opportunity instead.
Be a part of this:
Hillary Clinton, Hillary Clinton Campaign Press Release - Hillary Clinton's Campaign Just Hit a Major Milestone: a Million Donors Online by Gerhard Peters and John T. Woolley, The American Presidency Project https://www.presidency.ucsb.edu/node/317085