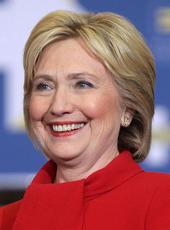 Hillary Clinton Campaign Press Release - Hillary Clinton Won the Northern Mariana Islands Caucus. Why That's a Bigger Deal Than You Think
Time for some delegate math.
On Saturday, Hillary Clinton won the caucus in a tiny U.S. territory many Americans have never heard of: the Northern Mariana Islands. The Pacific island group had just 189 caucus-goers—but it matters more than you think.
Because at the end of the day, the Democratic primary is a race for delegates. When voters and caucus-goers head to the polls, they're actually pledging delegates to a candidate. And the candidate with the majority of delegates wins the nomination.
And sometimes fighting for every delegate takes a little creativity, as TIME Magazine reports:
Before Saturday, Hillary led Bernie Sanders by 221 delegates—and more than 1.6 million votes. Her win in the Northern Marianas put her ahead by two more delegates—coincidentally the same number of delegates she gained by winning Iowa.
Between her victories in the Northern Marianas and her Super Tuesday win in another small territory, American Samoa, Hillary gained four delegates—the same number Bernie Sanders picked up in Michigan.
In other words: a huge win in a small contest can matter just as much as a close win in a big state.
And Hillary's delegate lead will be harder and harder to close as the race goes on.
Bottom line: We're in great shape. But there's still a lot of work to do.
That's why Hillary and the team are out there working for every last vote and delegate—in every last state and territory, big or small.
P.S. You can get your own Northern Mariana Islanders for Hillary shirt (or a shirt from your home state) here.
Hillary Clinton, Hillary Clinton Campaign Press Release - Hillary Clinton Won the Northern Mariana Islands Caucus. Why That's a Bigger Deal Than You Think Online by Gerhard Peters and John T. Woolley, The American Presidency Project https://www.presidency.ucsb.edu/node/317404