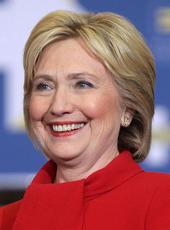 Hillary Clinton Campaign Press Release - Hillary Clinton Just Pledged To End a Law That Is Tearing Immigrant and Mixed-status Families Apart
"It makes no sense. It breaks up families. ... And we're going to end it."
Hillary Clinton has vowed to make immigration reform a top priority as president—and last week, she pledged to repeal a law that is tearing immigrant families apart.
The law Hillary was referring to—commonly known as the "three- and 10-year bar"—restricts undocumented immigrants pursuing a green card based on their family relationships to leave the country for a period of three or 10 years, depending on how long they have been in the United States.
And it forces families—especially those whose members have different citizenship or immigration statuses—into a heartbreaking dilemma: break apart, or stay together and remain in the shadows.
Blanca Gamez's family is one of them. She first told Hillary her story at a roundtable discussion with other DREAMers last May.
Blanca's younger sister is a U.S. citizen, and her father is a legal permanent resident. But her mother is still undocumented—and if she applies for a green card, she'll be separated from her husband and two daughters in the U.S. until she can get permission to come back.
Hillary told Blanca's story at a Democratic town hall in Las Vegas—and promised to end the three- and 10-year bar that is devastating families like hers.
For Blanca and her family, it was a moment of relief.
"I knew she was listening. And I know she's going to go in there and take action and do something to change this," she said.
And it confirmed what she'd known since she first met Hillary at the roundtable last spring.
"I went into there thinking this is going to be just a roundtable where we share our stories. But we had an open dialogue with her. We threw every single question to her and she answered all of them. She talked about the topics that are rarely spoken about, like family detention centers, and she was clear about what actions she'll take."
"And that's exactly why I support her."
Hillary Clinton, Hillary Clinton Campaign Press Release - Hillary Clinton Just Pledged To End a Law That Is Tearing Immigrant and Mixed-status Families Apart Online by Gerhard Peters and John T. Woolley, The American Presidency Project https://www.presidency.ucsb.edu/node/317453