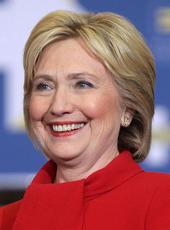 Hillary Clinton Campaign Press Release - Hillary Clinton Condemns Unfair Chinese Action on Steel Production, Pledges to Take On Chinese Trade Abuses as President
After Chinese government officials announced yesterday that China will continue to support overcapacity in their steel production, Hillary Clinton released the following statement condemning the unfair decision as threatening to American manufacturing and jobs and pledging to take on Chinese trade abuses as President:
"Just last week, I went to the AFL-CIO convention in Pennsylvania and said that I would not tolerate attempts by China to solve its growing economic problems on the back of American workers. A few days later, they announced plans to keep propping up significant overcapacity in their steel production – meaning that they'll keep unloading artificially cheap steel into global markets at the expense of countries and workers that play by the rules. As President, I'll aggressively pursue trade cases and impose consequences when China breaks the rules by dumping its cheap products in our markets. And I'll oppose efforts to grant China so-called "market economy" status, which would weaken our tools for dealing with this behavior. I've gone toe-to-toe with China's top leaders on some of the toughest issues we face. I know how they operate – and they know that if I'm President, the games are going to end."
Background
Clinton has a long record of standing up to abusive Chinese trade practices. As Senator, she fought for workers and manufacturers in New York, standing up to China when they tried to put tariffs on New York's exports. In communities across the state, from Buffalo to Rochester to Albany, Clinton brought together workers, businesses large and small, and every level of government to work to invest in good-paying jobs and production in the state. As Secretary of State, she confronted Chinese leaders on a wide swath of issues, from cyber attacks to human rights to climate change.
Clinton understands that America spent generations working with partners to develop strong and fair rules of the road for the global economy – but those rules only work if the U.S. enforces them. Tough enforcement and other smart policies to support a manufacturing renaissance are the only way we can ensure that trade helps American workers. That's why, throughout this campaign, Clinton has made clear that, as President, she will:
Crack down on foreign countries, like China, when they cheat the rules: If foreign countries dump products on our markets, like China is doing right now with steel, Clinton's administration will take countervailing action. She will appoint a new trade prosecutor that reports directly to the President and triple the number of trade enforcement officers to keep other countries honest. She will take on foreign countries that keep their goods artificially cheap by manipulating their currencies, and expand our toolbox to include effective new remedies to respond, such as duties, tariffs, or other measures. And she opposes China's efforts to be recognized as a "market economy," which would defang our anti-dumping laws.
Say "no" to new trade agreements that don't meet her high bar – including the Trans-Pacific Partnership.Clinton will hit pause and say "no" to new trade agreements unless they create American jobs, raise wages, and improve our national security. After looking at the final terms of the Trans-Pacific Partnership agreement, including what it contains on currency manipulation and its weak rules of origin standard for what counts as a car that can get treaty benefits, she opposed the agreement because it did not meet her test. And she will hold every future trade agreement to the same high standard.
Review the trade agreements we already have on the books.Clinton has said for almost a decade that we need to renegotiate NAFTA, and she still believes that today. She would review all of our trade agreements with the same scrutiny.
Fight for American exports.U.S. exports total more than $2 trillion dollars and exporters pay workers higher wages. Clinton will support the efforts of businesses large and small to tap new markets – both at home and internationally – to support good paying jobs and spur economic growth. That is why she stands for American workers in the face of misguided opposition by supporting the Export-Import Bank, and other policies that drive American exports.
Hillary Clinton, Hillary Clinton Campaign Press Release - Hillary Clinton Condemns Unfair Chinese Action on Steel Production, Pledges to Take On Chinese Trade Abuses as President Online by Gerhard Peters and John T. Woolley, The American Presidency Project https://www.presidency.ucsb.edu/node/318810