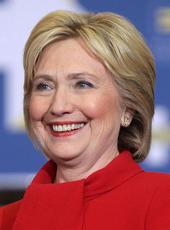 Hillary Clinton Campaign Press Release - Hey, America: We Have 10 Days To Help Hillary Clinton Win the Iowa Caucus. Here's How You Can Help
Time to catch up with that friend in Des Moines.
The Iowa caucus is in just 10 days—and if you're anything like me, that makes you feel like:


There's A LOT to do in 10 days to bring home a win for Hillary Clinton, and she can't get there without us. The polls are tight, and this is anyone's game. We have the power to secure a win for Hillary on Caucus Day in Iowa if each and every one of us steps up to do one small thing.
Whether you live in Des Moines or Denver, you can help Hillary win in Iowa on February 1—and if you pitch in a few minutes of your time today, we'll be one step closer to securing Hillary's first victory.
Here's your first mission:
The most important thing any of us can do is make sure the people we know in Iowa are ready and committed to show up for the caucus on February 1.
To help make that happen, just copy and paste the email below—customize away!—and send it to your friends in the Hawkeye State. (Hint: You can find all the Iowans you know on Facebook by clicking this link.)
From: You!

To: All your Iowa pals

Subject: Hey, are you caucusing on February 1?
Hi! The Iowa caucus is coming up quickly on February 1, and a win in any given area could come down to just a few caucus-goers. I'm proud to support Hillary—I would love for you to commit to caucus for her in Iowa.
Add your name right now:
The caucus is going to be an exciting, historic night, and I think it's so great that you get to be there in person. Thanks for being a part of this. Talk to you soon!
Your help could reach voters we need to turn out in order to win. Now's the time to pull out all the stops.
Hillary Clinton, Hillary Clinton Campaign Press Release - Hey, America: We Have 10 Days To Help Hillary Clinton Win the Iowa Caucus. Here's How You Can Help Online by Gerhard Peters and John T. Woolley, The American Presidency Project https://www.presidency.ucsb.edu/node/317255