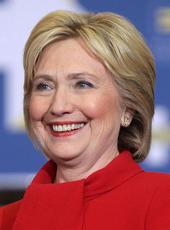 Hillary Clinton Campaign Press Release - Congressional Asian Pacific American Caucus Leadership PAC Endorses Hillary Clinton
Today, following the endorsement of the Congressional Asian Pacific American Caucus Leadership PAC, Hillary Clinton issued the following statement:
"I am honored to have earned the endorsement of the Congressional Asian Pacific American Caucus (CAPAC) Leadership PAC, which has been fighting for the AAPI community for decades.
"As both First Lady and Senator from New York, I was proud to work with the AAPI community to build a fairer, freer, more tolerant and more inclusive America. During the 90s, the Clinton Administration launched the first-ever White House Initiative on Asian Americans and Pacific Islanders, so the federal government would be more deliberate about helping all parts of the AAPI community succeed. In the Senate, I fought to reduce the backlog for family visas and reunite immigrant families.
"As President, I will fight alongside the AAPI community to at last pass comprehensive immigration reform with a path to full and equal citizenship. Still today, applicants from the Asia-Pacific region make up about 40 percent of the family visa backlog, and too many have waited decades to have the chance to be back with their families. Millions of people are eligible to become citizens and deserve the opportunity, but face real barriers to taking those last steps to naturalization. We can and we must address these challenges.
"We will defend the Affordable Care Act and continue to improve it, by capping out-of-pocket costs, taking on runaway prescription drug prices, and continuing to expand enrollment. We'll invest in education, with universal pre-K and debt-free college tuition, so every child has the chance to live up to his or her God-given potential. I will always stand with the CAPAC Leadership PAC in the fight to show the world what we know to be true: we are stronger together. And when families are strong–America is strong."
Hillary Clinton, Hillary Clinton Campaign Press Release - Congressional Asian Pacific American Caucus Leadership PAC Endorses Hillary Clinton Online by Gerhard Peters and John T. Woolley, The American Presidency Project https://www.presidency.ucsb.edu/node/318768