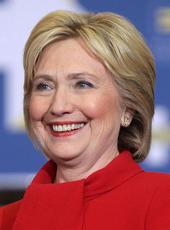 Hillary Clinton Campaign Press Release - Clinton Candidacy Garners Huge Online Response
Campaign web site signs up 100 new members per minute, racks up 10,000 messages of support within 6 hours of announcement
Clinton candidacy hailed online as "profoundly moving"; "top tier"; "exciting"; "remarkable"; "smart"; and "news of a generation"
Demonstrating the groundswell of enthusiasm generated by her historic candidacy, Senator Hillary Rodham Clinton's announcement for President lit up the internet today, garnering rave reviews in the blogosphere, and thousands of supporters flocking to her web site each hour. Within just six hours of the announcement going live on her campaign web site, Senator Clinton's candidacy attracted thousands of messages of support, and widespread accolades online.
Overwhelming Response Within Hours of Going Live:
SIGN UPS = 100 per minute
MESSAGES OF SUPPORT = 10,000
VIDEO WEBCAST SIGN-UPS = 7,700
BLOG CONTEST SUBMISSIONS = 2,200
Bloggers Give Clinton Announcement Rave Reviews:
MYDD (Jerome Armstrong) - "And as blogger savvy as John Edwards was in outreach, Clinton internet team had the emails of bloggers to notify them separate from the press (no such outreach from the Obama camp). The website has the clean, Kerry-2004 look about it. A smart "write our first post" call to action on the website. The announcement of "an unprecedented series of video webcasts beginning Monday, January 22nd at 7pm EST for three nights" creates a quick narrative of interaction and response around Bush's SOTU address."
DAILY KOS DIARY (nyceve) - "I'm an open and honest person, and I'm profoundly moved by her announcement. What was unimaginable just a few decades ago, is now something we can almost touch."
THE CARPETBAGGER REPORT - "Clinton enters the race, without a doubt, at the top of the top tier. I've heard all the various concerns about her candidacy, but I don't have any doubt that she has what it takes to win. Indeed, Clinton brings an enormous amount of talent, experience, and intelligence to the table."
TAYLOR MARSH - "Sitting in a living room setting, Senator Hillary Clinton made one simple statement that changed the landscape of the '08 presidential tournament to come. (To add, I got an email about this event this morning just after 6:00 a.m.) Because when the first woman to run for president, with an actual chance of winning, puts her name and reputation on the line, it becomes news of the day, week, even a generation."
TALK LEFT - It is exciting to have a serious female candidate for President.
OUTSIDE THE BELTWAY - After nearly eight years of speculation, Hillary Clinton has announced her candidacy for president.... she has done a remarkable job these past several years getting out of her husband's shadow, positioning herself as more moderate than previously thought, and garnering bipartisan praise for collegiality and hard work in the Senate.
DAILY KOS DIARY (Yellow Dog Blue) - "How has she survived and thrived? Not by heavying up her armor. Not by engaging and overwhelming her opponents. Not even by appealing for public sympathy. Instead Hillary has just gone her business being a Senator, building personal relationships and support, getting and using power. And I really admire that."
SEEING THE FOREST (Dave Johnson) - "People say Hillary Clinton has "baggage" and is "divisive." Actually she has been investigated more thoroughly than almost anyone in the country's history and they found nothing at all. It isn't Hillary who is divisive, it's the people making all the accusations."
Hillary Clinton, Hillary Clinton Campaign Press Release - Clinton Candidacy Garners Huge Online Response Online by Gerhard Peters and John T. Woolley, The American Presidency Project https://www.presidency.ucsb.edu/node/292954