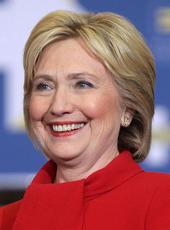 Hillary Clinton Campaign Press Release - Clinton Campaign Statement on Trump Doubling Down on Insulting African Americans
Today during a rally in Ohio, Donald Trump doubled down on his insults to the African American community, which he leveled during a Friday speech in Michigan. There, he posed the question to African Americans, "What do you have to lose? You're living in poverty. Your schools are no good. You have no jobs." Today, in Akron, Trump continued: "You can go to war zones in countries that we're fighting and it's safer than living in some of our inner cities… I ask you this. Crime. All of the problems. To the African Americans who I employ so many – so many people… What the hell do you have to lose? … You'll be able to walk down the street without getting shot. Right now, you walk down the street. You get shot."
Hillary for America Director of State Campaigns and Political Engagement Marlon Marshall released the following statement in response:
"It could not be clearer how much African Americans have to lose under Donald Trump. He is doubling down on insults, fear and stereotypes that set our community back and further divide our country. But again this is not surprising, this is a man who questions the citizenship of the first African American president, has a disturbing pattern of courting white supremacists, and has been sued for housing discrimination against communities of color.
"As demonstrated by his bigotry and actions, Donald Trump is unfit and unqualified to be President. We cannot afford this out of touch and divisive thinking in the White House, which is why we must take nothing for granted and work as hard as we can to make sure Hillary Clinton is our next president."
Hillary Clinton, Hillary Clinton Campaign Press Release - Clinton Campaign Statement on Trump Doubling Down on Insulting African Americans Online by Gerhard Peters and John T. Woolley, The American Presidency Project https://www.presidency.ucsb.edu/node/318755