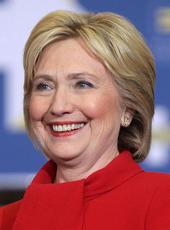 Hillary Clinton Campaign Press Release - Clinton Campaign Launches Washington, D.C. Women for Hillary Council
The Clinton campaign announced today the formation of the Washington, DC Women for Hillary Council. The Council is made up of women from across the state who will be active leaders in the District of Columbia, speaking to their friends, family and associates about this election, and helping to grow the network of women across America supporting Hillary Clinton's campaign.
This announcement is part of the campaign's week long focus on Women Changing America. During the week, the campaign is highlighting the decisive role women can play in this election, discussing issues important to women, and celebrating the ways that women are changing America everyday.
"In 35 years as an advocate for women, children and families, I know that women can make a powerful difference," Hillary said. "Women are changing America and I am so proud to welcome the District of Columbia Women for Hillary Council to our campaign. Working together, we will address the issues of concern to women and families, and how we can make the changes America needs."
Members of the District of Columbia Women for Hillary Council will join Hillary for a conference call this week. They are encouraged to be ambassadors for Hillary by reaching out to their networks on Hillary's behalf while also educating and empowering others to make history by making Hillary our 44th President.
"As an advocate for children, it is easy for me to be on the front lines of the Washington D.C. Women for Hillary Council," said Cora Masters Barry, former First Lady of Washington, D.C., founder of the Southeast Tennis and Learning Center, and children's advocate. "For more than a decade I have observed Hillary's commitment and work to improve the lives of children and families in this country.
"I have been fortunate to see this commitment demonstrated up close here in the City of Washington D.C., where many of our communities have personally benefited from her passionate belief that all of the major issues in this country get back to how you treat and empower our children. I know that she is the only person running for President, Democrat or Republican, who not only truly understands this but has the courage and determination to do something about it."
Hillary kicked off the week with an appearance on The View and spoke at the Eleanor Roosevelt Legacy Committee's Annual Fall Campaign Luncheon in New York. On Tuesday, she traveled to New Hampshire to announce a new policy proposal to help parents balance work and family life. On Wednesday, nearly 1,000 women contributors from 47 states around the country will convene for a women's summit in support of the Clinton campaign – a full-day event that will raise well over $1 million. And on Thursday, Hillary will discuss the importance of health care for women when she participates in the Presidential Candidate Forums organized by the Federation of American Hospitals and Families USA and hosts a conference call with health care professionals from the American Medical Women's Association.
The week's events underscore why Hillary enjoys such deep support among women voters by emphasizing how her strength and experience make her the candidate best able to deliver change on the issues most important to them.
The members of the District of Columbia Women for Hillary Council reflect Hillary's vast and diverse supporters, spanning all occupations and communities.
Hillary's District of Columbia Women for Hillary Council includes:
Alfreda V. Davis
Amber Carrier
Bonnie Berry
Brooke Shearer
Caren Auchman
Carolyn Lamm
Carrie James
Carson-Smith Winifred
Chifornia Cox
Claudette Cox
Cora Masters Barry
Cynthia Diehm
Cynthia Streb
Dale Carter, South Bend
Dalia Smythe
Elizabeth Hanna-Owens
Emily Zeigenfuse
Erin Libit
Gaby Fraser
Geri Palast
Gina Trippi
Jean Emery
Jenna Lowenstein
Jennifer Morris
Joanne Howes
Kadesha Washington
Karen O'Connor
Karen Williamson
Kathryn Oberly
Kim Vandecar
Kiran Gandhi
Kristin Koehler
Lane Dilg
Lauren Desantis
Linda Lingle
Lisa Jones
Lori Kreloff
Lynn Parrish
Mara Rudman,
Marcia L. Dyson
Margot Friedman
Mariette Yost
Marilyn Sephocle
Marilyn Tyler Brown
Mary Lazzeri
Mary Schoenfuhs
Nancy Beang
Pauline Schneider
Rachael Allen-Stephens
Reta Lewis
Richelle Harrison
Ryan Conroy
Shauna Alexander
Shelley Tomkin
Stacy Vasquez
Stephenie Foster
Suniti Bal
Susan Magee
Susan Markham
Suzanne Davis
Tatiana Gutierrez
Tenley Carp
Therese Lee
Wendy Arends
Wendy Yascur
Yvonne Demmerritte
List in formation...
Hillary Clinton, Hillary Clinton Campaign Press Release - Clinton Campaign Launches Washington, D.C. Women for Hillary Council Online by Gerhard Peters and John T. Woolley, The American Presidency Project https://www.presidency.ucsb.edu/node/292778