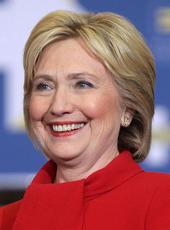 Hillary Clinton Campaign Press Release - Clinton Camp to Obama: Cut Ties & Return Cash After Top Booster's Vicious Attacks
As Obama rails against "slash & burn" politics, his top Hollywood fundraiser - David Geffen - personally attacks Hillary & her family
Clinton Communications Director Howard Wolfson issued the following statement today demanding that Barack Obama disavow personal attacks that his campaign finance chair made against Senator Clinton in this morning's New York Times:
"While Senator Obama was denouncing slash and burn politics yesterday, his campaign's finance chair was viciously and personally attacking Senator Clinton and her husband.
"If Senator Obama is indeed sincere about his repeated claims to change the tone of our politics, he should immediately denounce these remarks, remove Mr. Geffen from his campaign and return his money.
"While Democrats should engage in a vigorous debate on the issues, there is no place in our party or our politics for the kind of personal insults made by Senator Obama's principal fundraiser.
----------------------------------------
AP: Obama Speaks Against 'Slash And Burn' Politics
February 18, 2007 (LAS VEGAS) - Sen. Barack Obama on Sunday railed against "slash and burn" politics in Washington in a brief stop in Nevada, his first since declaring his presidential ambitions.
"We've got to get beyond the small politics, ... the slash and burn politics that have become the custom in Washington," the Illinois senator told a crowd of about 3,500 gathered at an outdoor amphitheater in Las Vegas.
The full AP story can be accessed at this link:

http://abclocal.go.com/wls/story?section=local&id=5046492
Hillary Clinton, Hillary Clinton Campaign Press Release - Clinton Camp to Obama: Cut Ties & Return Cash After Top Booster's Vicious Attacks Online by Gerhard Peters and John T. Woolley, The American Presidency Project https://www.presidency.ucsb.edu/node/293521