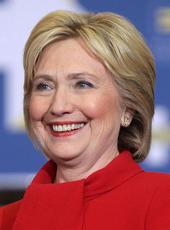 Hillary Clinton Campaign Press Release - Campaign Memo: Clinton in New Hampshire
Hillary Clinton kicks off her New Hampshire campaign effort this weekend with visits to Berlin, Concord, Manchester, Nashua, and Keene. She's committed to campaigning the "New Hampshire way," meeting with voters in their living rooms, diners, and town halls.
Clinton starts the weekend in the Granite State's North Country, holding a "Conversation with Voters" in the City of Berlin (pronounced BURR-lin). Clinton's decision to start off in Berlin sends a strong message about the kind of campaign she's going to run in New Hampshire. It is also a metaphor for the kind of national campaign she'd run as the Democratic nominee in 2008: Just as she will visit every corner of New Hampshire, she'll campaign in communities throughout the country.
It's an approach that has characterized Senator Clinton's past campaigns in New York, including her 2000 Senate race where she focused on meeting people from Upstate New York in smaller one-on-one settings. After starting that race with just 33% of voters believing she would "be a fighter for New York in Washington," Clinton won that race with 55% of the vote and won 15 counties. She was re-elected six years later with 67% of the vote and won 58 of the 62 New York counties, including highly Republican Upstate NY and improving her standing in suburban swing regions. By making the Upstate region more competitive for Democrats, Clinton changed the way Democrats campaign in New York.
New Hampshire Tradition: Granite Staters take their time in evaluating their presidential candidates. Senator Clinton appreciates and understands the New Hampshire tradition, and is going to meet voters in town halls, living rooms and diners in every region of the state. This weekend, Senator Clinton will emphasize that she's going to be spending spend a lot of time in New Hampshire getting to know the people and working to earn their support.
Quick Facts: Clinton leads in most recent polls of New Hampshire voters. The most recent WMUR/CNN poll found that Hillary was 14 points ahead of her nearest competitor in the Democratic primary. A February American Research Group poll found her 20 points ahead... This week, Clinton scored a major coup when former Kerry New Hampshire Director and current NHDP Executive Director Nick Clemons -- hailed by State Democratic Chair Kathy Sullivan as "the best executive director in the country" -- signed on to run her New Hampshire operation. Clemons joins Karen Hicks who ran Dean's primary campaign in 2004 and Liz Purdy who worked for Governor Shaheen on Clinton's New Hampshire staff.
Polling: In other polling news this week, ARG polls out in Maine, Massachusetts, Vermont and Connecticut have Clinton leading the Democratic primary field while Quinnipiac polls out in Florida and Pennsylvania also have her on top. Additional polls this week show Clinton leading the Democratic primaries in Oklahoma and Michigan, and leading hypothetical general election match-ups in Michigan.
In a national Fox News poll last week, Clinton shot up 10 points in the Democratic primary, besting her four closest rivals combined. In addition, the poll shows that Americans believe Clinton would be the toughest on terrorism of all presidential candidates in either party, and that a majority of general election voters are comfortable with her in the White House.
Hillary Clinton, Hillary Clinton Campaign Press Release - Campaign Memo: Clinton in New Hampshire Online by Gerhard Peters and John T. Woolley, The American Presidency Project https://www.presidency.ucsb.edu/node/293250