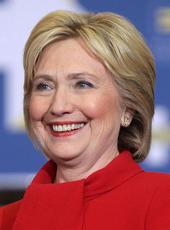 Hillary Clinton Campaign Press Release - 8 Hollywood Women Who Took a Stand For Progress and Inspired Us
Jennifer Lawrence is in good company.
An estimated 1 in 5 American women rely on Planned Parenthood for health care during their lifetimes—and Academy Award-winner Jennifer Lawrence is one of them.?
In a recent interview with Glamour, the actress credited Planned Parenthood with helping her get the reproductive care she needed, and stood up against Republican attacks on women's health.
" I wouldn't have been able to get birth control if it weren't for Planned Parenthood. I wouldn't have been able to get condoms and birth control and all these things I needed."
Jennifer Lawrence isn't the only star who is proudly defending progressive values. Here are 7 other times Hollywood women stood up for progress:
Shonda Rhimes spoke out for LGBT equality.
" I think in telling LGBT stories, I'm telling everyone's story. Love is, in fact, universal, right? ... I want my daughters to grow up in a world in which there is more love than hate. I want them to know a world where everyone is free. So that's why I write the stories that I do, because everyone should be free."
---
Amy Schumer took on the gun lobby.
" Unless something is done and done soon, dangerous people will continue to get their hands on guns. We know what can happen when they do."
---
Emma Watson made the case for equal pay.
" The reality is that if we do nothing it will take 75 years, or for me to be nearly a hundred, before women can expect to be paid the same as men for the same work."
---
Lena Dunham defended feminism.
" So many women have come to this idea of feminism being anti-male and not able to connect with the opposite sex—but what feminism is about is equality and human rights."
---
Viola Davis raised an important truth about racial justice and opportunity.
" The only thing that separates women of color from anyone else is opportunity."
---
America Ferrera fought back against bigotry and anti-immigrant rhetoric.
" ... America [has] celebrated some amazing milestones—marriage equality, universal health care, removing of the confederate flag—making it clear in which direction the country is moving. That is why racist remarks that play to extremists won't change the tide ..."
---
Kerry Washington laid out what's at stake in 2016.
" Today there are people trying to take away rights that our mothers, grandmothers and great-grandmothers fought for: our right to vote, our right to choose, affordable quality education, equal pay, access to health care. We, the people, can't let that happen."


We couldn't agree more—equal rights, gun safety, racial justice, and equality are all issues Hillary is fighting for.
Hillary Clinton, Hillary Clinton Campaign Press Release - 8 Hollywood Women Who Took a Stand For Progress and Inspired Us Online by Gerhard Peters and John T. Woolley, The American Presidency Project https://www.presidency.ucsb.edu/node/317389