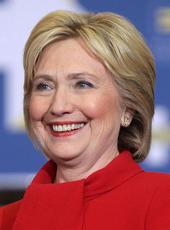 Hillary Clinton Campaign Press Release - 4 Things We Learned About Hillary Clinton From Her Chat With YouTube Stars
Did you know she likes to dance?
Hillary Clinton sat down for a chat with well-known YouTube personalities for a heartfelt conversation about what it's like to be a woman running for president. Here's what we learned.
1. She shared how she spends time with her friends.
"I was with a group of my friends at a big event the other night, and we were dancing—and it was crazy."
2. She believes our country needs a little more love and kindness.
"[I'm focused on] how we create a more welcoming and more supportive environment for a lot of Americans who I worry are anxious, insecure, fearful about their future."
3.?Her mother is still one of the biggest influences in her life.
"My mother in first grade never had any food. So the first grade teacher saw she didn't have any food ... and said, ?You know, Dorothy, I brought too much food today. Would you like some?' ... That teacher did that every day, and my mother didn't realize until years later that that teacher was feeding her. And that made her feel that she needed to be of service and raise me to be of service."
4. And she knows running for president isn't about her—it's about all of us.
"I will do my best to present what it is I want to do and how I want to help people. But I don't want me to be the focus of it, because in effect, being president shouldn't be about you, it should be about the country."
Watch the full conversation:
Hillary Clinton, Hillary Clinton Campaign Press Release - 4 Things We Learned About Hillary Clinton From Her Chat With YouTube Stars Online by Gerhard Peters and John T. Woolley, The American Presidency Project https://www.presidency.ucsb.edu/node/317512