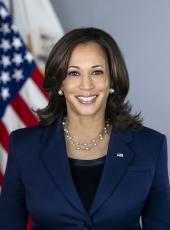 Harris Campaign Press Release - What They're Saying About Kamala Harris at the First Democratic Primary Debate
Kamala Harris Dominates Stage in the First Democratic Primary Debate
"Sharpest Politician on This Stage" "Not to be Messed with" "Very Impressive" "Smart as Hell"
Senator Kamala Harris delivered a commanding performance in the first Democratic primary debate -- distinguishing herself from the field and proving she is best-equipped to take on Donald Trump.
Harris was the only candidate on either night of the debates to demonstrate exactly what Democratic voters want: presidential leadership, an agenda that addresses the problems that keep people up at night, and the ability to beat Trump in the general election.
She clearly rose above the fray to focus on the issues that matter to everyday Americans and delivered a powerful story about the pain racism caused her as a child. Harris laid out her "3AM Agenda" rooted in solutions that will have a direct and immediate effect on people's lives, paychecks, and health care. Her performance tonight proved, yet again, that she is the best candidate in the field to prosecute the case against four more years of Trump.
Here are some of what they're saying about Kamala's performance:
The Atlantic: Kamala Harris Seizes the Moment. Again.
Rolling Stone: Watch Kamala Harris Demolish Joe Biden on Race During the Democratic Debate
BuzzFeed: Kamala Harris Just Showed How She'd Take On Trump
ABC: Harris soars at debate, as Democrats' fault lines trip up Biden
New York Magazine: Kamala Harris Made Joe Biden Answer for His Past
Washington Post: Kamala Harris hits a home run
New York Magazine: Kamala Harris Just Jumped Into the Top Tier
New Yorker: Kamala Harris Is the Best Storyteller on the Democratic Stage
New York Times: Kamala Harris Makes the Case That Joe Biden Should Pass the Torch to Her
Daily Beast: Kamala Harris Shows She's Here to Capture the Crown
Vox: Kamala Harris made her opponents look like squabbling children
Deray McKesson, Civil Rights Activists: Kamala is one of the only people I've seen over these two nights that simply came off as presidential.
Jonathan Chait, New York Magazine: Kamala Harris just jumped into the top tier.
Edward-Isaac Dovere, The Atlantic: one of the biggest questions going into night 2 of the Democratic debates was whether @KamalaHarris would show up and make a splash - and she clearly did
Tommy Vietor, former White House Official: Kamala is good at this
Sydney Ember in the New York Times live chat: Harris is commanding the stage right now.
Astead Herndon in the New York Times live chat: Harris really leaning into her prosecutor background on guns, huge applause. She's mopped them this debate.
Barbara Rodriguez, Des Moines Register: .@KamalaHarris had a very good night, and I think Iowans will be excited to see her in the state next week. #iacaucus
Miami Herald: Miami Herald Editorial Board: On final night of debates, who stood out? Kamala Harris
Trevor Noah, Comedian: Yeah, after Kamala did what she did tonight, Joe Biden, your time might be up.
Jon Ralston, Nevada Independent: This is amazing by Harris vs. Biden. She seized the moment and went after him. After being given 30 seconds, she went for 2 minutes. Masterful.
Molly Hensley-Clancy, BuzzFeed Reporter: Kamala Harris took control of a chaotic debate that was expected to be dominated by two older white male frontrunners — and left one of them rattled.
Van Jones, CNN Commentator: If Kamala Harris were president of the United States I would sleep like a baby. She is not to be messed with. #DemDebate @CNN @AC360
Van Jones on CNN: "Kamala Harris had a moment - that was two hours long. If you had any doubt that you could nominate a woman that would take Donald Trump to the woodshed…
March For Our Lives:.@KamalaHarris has been an ally for a long time, and we're thrilled she discussed her plans to prevent gun violence legislation through Congress or an executive order. One way or another, she's prioritizing lives over profits! #DemocraticDebate2019
Joyce Alene, MSNBC Contributor: She was direct & it was moving. I'm starting to think Kamala Harris is the person who can lead this country through a productive conversation about race.
Paul Begala, CNN Contributor: All you people who thought @JulianCastro won last night's debate? Let me introduce you to @KamalaHarris.
Greg Sargent, Washington Post: Remarkable. Kamala Harris is making an electability argument for herself through one display of toughness after another, all rooted in biography and experience.
Michael Steele, Former RNC Chairman, As she watched her opponents resort to aggressive cross talk this happened: "Guys, America doesn't want to witness a food fight, they want to know we're going to put food on their table" -@KamalaHarris Boom! #DemDebate
Christopher Cadelago, Politico: Kamala Harris has basically been flawless, inserting herself in the conversation and using her time to plug her agenda in crisp lines. "Food fight" line was expertly timed
Atima Omara, Political Strategist: Senator Harris did what is hard for many of us people of color in politics, calling out our white colleagues when they've done/said problematic things on race. It's HARD, and I'm glad she did it #DemocraticDebate #DemDebate
Matt Brennan, LA Times Editor, Pssst: As @LorraineAli wrote for @latimes in her #DemDebate preview, Kamala Harris is "a game-changing phenomenon in the waiting." I think the wait is over.
Dan Fagin, NYU Journalism Professor, So far tonight, at least, the sharpest politician on this stage, by far, is Kamala Harris. #DemDebate
EJ Dionne, Columnist: So far, Harris had the best moment. Asked if Dems should show how they would pay for all their plans, she asks why Republicans weren't ask the same question when they passed their big tax cut. It was a great point, and popular with Dems. #DemocraticDebate
Steven Beschloss, Journalist: Kamala Harris is having a good night—a combination of righteous anger and compassionate storytelling. She's also succeeded at quieting the men talking over each other.
Kate Palmer, Huffington Post: Kamala has so far stood alone among all these 20 candidates as the Democrat who can both fight and empathize. Very impressive tonight.
Anthony Man, Broward Politics: The candidate commanding media attention after Democratic debate night two is ?@KamalaHarris?.
Ana Navarro-Cárdenas, Republican Strategist, CNN commentator: I am loving @KamalaHarris tonight. I so want to see her debating Trump. She is everything he is not: Empathetic. Smart as hell. Lawful. Knowledgeable. Eloquent. Unifying. Composed. Adult. Sane. Not racist. Not misogynist. Not "pendejo".
538 Live Chat: I won't mince words: Kamala Harris did really well. She delivered one of the strongest moments in American debate history when she criticized Biden over his association with segregationist senators — she did it in a gentle yet devastating way. I think a lot of people will watch that moment and see the candidate they want to debate Donald Trump. She was strong other than that, too. Her anger at the Trump administration was palpable, and she used emotional appeal to great effect.
Kamala Harris, Harris Campaign Press Release - What They're Saying About Kamala Harris at the First Democratic Primary Debate Online by Gerhard Peters and John T. Woolley, The American Presidency Project https://www.presidency.ucsb.edu/node/365403