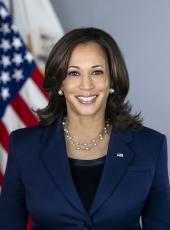 Harris Campaign Press Release - Kamala Harris Rolls Out New Endorsements in All Early States, California
On the heels of her commanding victory in the Democratic primary debate, elected officials, activists and community leaders from Iowa, New Hampshire, Nevada, South Carolina and California are endorsing Kamala Harris for President.
During the debate, Harris outlined her plans to deliver real, tangible solutions for the challenges American families face. She rose above the fray to focus on the issues that matter to everyday Americans and delivered a powerful story about the pain racism caused her as a child. Harris laid out her "3AM Agenda" rooted in solutions that will have a direct and immediate effect on people's lives, paychecks, and health care.
Here are some of the reasons leaders across the early voting states are endorsing Harris:
"Senator Harris is a wonderful example of strength, intelligence, and grace for all women. As a breast cancer survivor, healthcare is important to me. I believe Senator Harris will work to make affordable healthcare possible for all Americans," said Minister Vergarie Sanford. Sanford is a minister at Mount Zion Refuge Center Church in Council Bluffs, Iowa and serves the community on several non-profit organization boards.
"Kamala Harris has shown time and time again that she is a uniquely talented leader who will return the White House to the American people. Her concrete, practical solutions on issues such as raising teachers' pay, ending gun violence and making the economy work for everyone address some of the most pressing challenges facing Granite State families. She also knows how to prosecute the case against bad actors and to hold them accountable. She is a fighter, and I believe the best candidate to take on Trump in 2020," said former New Hampshire Democratic Party Chair Joe Keefe. "I am proud to endorse her."
"As an immigrant, I am proud to support Kamala Harris's historic campaign for president," said Sanje Sedera, founder and former president of the Asian American & Pacific Islander Democratic Caucus of Clark County. "Many Nevadans can relate to her story because it truly is the story of America. Kamala not only embodies the progressive values that her South Asian mother instilled in her, but has also been a fierce champion for equality."
"Kamala Harris was the first Presidential candidate to ever come to Holly Hill," said Rev. Dr. Ralph Brown, Orangeburg County School Board member and Holly Hill Pastor. "That showed me that she is not just talking about reaching out to forgotten voters, she is actually doing it. I'm proud and excited to endorse her candidacy and after watching her performance on the debate stage I know she can take on Donald Trump and win back the White House for working families."
"One person stood out on the debate stage as presidential material: Kamala Harris," said California State Senator Lena Gonzalez. "As the daughter of an immigrant and a Teamster truck driver, I've seen first-hand the challenges working-class families face. As a lifelong supporter of unions and a passionate advocate for Dreamers, I know Kamala will fight for people like us from the White House. And after her powerful debate performance, it's clear she's exactly what our party and our country needs."'
Here is the full list of the new endorsements Harris earned this week:
Iowa
Minister Vergarie Sanford - Mount Zion Refuge Center Church
Thomas Fisher - Des Moines Assistant City Attorney
New Hampshire
Joe Keefe - former New Hampshire Democratic Party Chair
Nevada
Helen Foley - former Nevada State Senator
Tanya Flanagan - Alpha Kappa Alpha Sorority, Inc member and African American community leader
Rev. Leonard Jackson - African American community leader
Sanje Sedera - Founder and former President of the Asian American & Pacific Islander Democratic Caucus of Clark County
Janet Serial - Chair of the Black Caucus of Washoe County and Alpha Kappa Alpha Sorority, Inc member
Lesley Miller - former board member, Nevadans for Background Checks
Rose McKinney-James - clean energy leader
South Carolina
Dr. Gloria Boozer - Former Alpha Kappa Alpha, Inc. official
Dr. Ralph Brown - Orangeburg County School Board Member, Pastor from Holly Hill
Peggy Baxter - South Carolina Democratic Party Delegate
California
State Senator Lena Gonzalez
Assessor Jeffrey Prang, Los Angeles County
Jan Perry, Los Angeles City Council (former)
City Attorney Dennis Herrera, City of San Francisco
Treasurer Jose Cisneros, City of San Francisco
Catherine Stefani, San Francisco Board of Supervisors
Matt Haney, San Francisco Board of Supervisors
Shamann Walton, San Francisco Board of Supervisors
Ahsha Sa'fai, San Francisco Board of Supervisors
Vallie Brown, San Francisco Board of Supervisors
Alex Randolph, San Francisco City College Board President
Ivy Lee, San Francisco City College Board
Shanell Williams, San Francisco City College Board
Rachel Norton, San Francisco Unified School Board
Bevan Dufty, BART Board
Lateefah Simon, BART Board
Naomi Kelly, San Francisco City Administrator (not elected)
Josue Alvarado, Whittier City Council
Mayor Art Brown, City of Buena Park
Connor Traut, Buena Park City Council
Irella Perez, Whittier Unified School Board
Chris Brown, Savannah Unified School Board
Elizabeth Gonzalez, Centralia Unified School Board President
Angelov Farroq, Riverside Unified School Board President
Al Austin, Long Beach City Council Member
Megan Kerr, Long Beach Unified School Board
Christy Holstege, Palm Springs City Council
Kamala Harris, Harris Campaign Press Release - Kamala Harris Rolls Out New Endorsements in All Early States, California Online by Gerhard Peters and John T. Woolley, The American Presidency Project https://www.presidency.ucsb.edu/node/365311