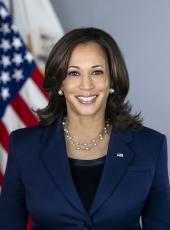 Harris Campaign Press Release - Kamala Harris Receives Key Endorsements From Black South Carolina Leaders
Following a debate performance that displayed Kamala Harris' ability to prosecute the case against four more years of Donald Trump, prominent South Carolina leaders are endorsing Kamala Harris for President. Orangeburg County School Board Member and Pastor of Greater Target AME Church Rev. Dr. Ralph Brown, Former Alpha Kappa Alpha, Inc. official Dr. Gloria Boozer, and SCDP Delegate Peggy Baxter cite Harris' commitment to working families and command of the issues that keep people up at night.
"Kamala Harris was the first Presidential candidate to ever come to Holly Hill," said Rev. Dr. Ralph Brown. "That showed me that she is not just talking about reaching out to forgotten voters, she is actually doing it. I'm proud and excited to endorse her candidacy and after watching her performance on the debate stage I know she can take on Donald Trump and win back the White House for working families."
Rev. Dr. Ralph Brown is a member of the Orangeburg County School Board and the pastor of Greater Target A.M.E. Church in Holly Hill, South Carolina. He is a 1984 graduate of Holly Hill-Roberts High and a 1998 graduate of SCSU. He is a proud member of the Omega Psi Phi Fraternity, Inc and also a veteran of the U.S. Marines in which he served eight years.
"Kamala Harris continues to be a candidate for the people. She was the first candidate to launch an organized effort for HBCU students and alumni," said Dr. Gloria Boozer. "She is committed to reaching people where they are and on the debate stage she revealed herself to be the fighter we need to take on Donald Trump and restore truth and justice to our democracy."
Dr. Gloria Boozer was the Cluster VIII Coordinator for Alpha Kappa Alpha, Inc. and is a retired public school administrator. She will join the campaign's recently announced efforts to organize HBCU Alumni and members of the Divine 9, Black sororities and fraternities.
"It is not enough for candidates to say they are in favor of universal health care, we need a President who takes seriously the rampant racial discrimination in our health care system," said Peggy Baxter. "Kamala Harris was the first candidate to take action on the crisis facing Black mothers. South Carolina's maternal mortality rate is the eighth highest in the country and I'm endorsing Kamala Harris because I know she will fight for them."
In addition to representing Greenville as a South Carolina Democratic Party delegate, Peggy Baxter is a founding Director for the Black Woman Organization for Political Action. She serves as a member of the Sterling Land Trust Board of Directors, and on Greenville's Habitat for Humanity's Board of Directors. Additionally, she serves on the Board of Directors for the South Carolina Cancer Alliance, New Horizon Family Health Center and the Piedmont Health Foundation.
Others who have endorsed Harris include:
I.S. Leevy Johnson
Bakari Sellers
Senator Darrell Jackson
Senator John Scott
Representative Rosalyn Henderson-Myers
Former Representative Brenda Lee Pryce
Representative JA Moore
Representative Pat Henegen
Former Councilwoman Bernice Scott
Councilwoman Erica Brown
Former gubernatorial candidate Marguerite Willis
Former Democratic nominee for Attorney General Constance Anastopoulo
Berkeley County Democratic Chair Melissa Watson,
Emerge South Carolina co-founder Susan Riordan.
Harris has also been endorsed by the Reckoning Crew, a group of predominantly Black women activists who have been organizing in South Carolina for almost thirty years.
Kamala Harris, Harris Campaign Press Release - Kamala Harris Receives Key Endorsements From Black South Carolina Leaders Online by Gerhard Peters and John T. Woolley, The American Presidency Project https://www.presidency.ucsb.edu/node/365348