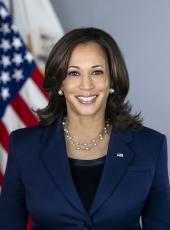 Harris Campaign Press Release - After a Packed Hispanic Heritage Month, Latinx Leaders Endorse Kamala Harris, Join Latinos Para Kamala Committee
Harris Gets Endorsements from Presidents of Amigos Salvadoreños and Federación de Clubes Michoacanos Unidos de Nevada
Following a packed Hispanic Heritage Month in Nevada, key Latinx community leaders are endorsing Kamala Harris for president and forming the new Latinos Para Kamala committee. The committee will recruit new members, offer guidance on mobilizing and engaging Nevada's Latinx community, assist in developing caucus education and training materials, and participate in trainings for other Latinos.
These Latinx community endorsements come from people who lead grassroots Latinx organizations. As presidents of diverse Latinx organizations, such as the Amigos Salvadoreños and Federación de Clubes Michoacanos Unidos de Nevada, they will help expand the campaign's Latinx network. They also demonstrate the momentum and overwhelming support for Kamala Harris among Nevada's Latinos.
The campaign has taken an unprecedented approach to engaging with the Latinx community, launching "Latinos For The People," and an online organizing program in Spanish called "Camp Kamala En Español." Harris also received the endorsement of Arizona Congressman Ruben Gallego the First Vice Chair of the Congressional Hispanic Caucus.
"After living through Trump's horrific immigration policy, we need someone who will listen to our community and give us a seat at the table," said Assemblywoman Sandra Jauregui. "Justice is indeed on the ballot in 2020 and Kamala Harris has proven that she is not only a fighter for justice for Latinos, but she that she will continue to empower our community. I'm excited to be a part of Latinos Para Kamala in Nevada to mobilize, inform, and organize our community to make sure Kamala Harris is the next president of the United States."
"As a woman of color in elected office, I understand how critical it is to have people who look like me in positions of power to make decisions for our community. We need someone in the White House who empowers us and the issues we care about," said Washoe County Recorder Kalie Work. "Launching a Latinos Para Kamala committee is just one example of how Kamala Harris is running a campaign the includes voices of people from every community. I'm proud to be a founding member and help organize our community for Kamala Harris."
"As a woman, Kamala fights for our rights. She knows that we need equality for all of us," said Rhina Moreno, president of Amigos Salvadoreños de Las Vegas. "And as Latinas, she has us in mind that, as a community, our vote counts and we have a lot to contribute."
"We need our next president to be strong, smart, and to have lived the same experiences as our community," said Fermin Ramirez, Latinx community leader and member of Federación de Duranguenses. "I firmly believe that Senator Kamala Harris is the candidate who has all the qualities needed to be in the White House."
List of members of the Latinos Para Kamala Committee in Nevada:
Assemblywoman Sandra Jauregui
Washoe County Recorder Kalie Work
Francisco Aguilar
Jennifer M. López
Brian Ayala
Nancy Ayala
Fermin Ramirez
Rhina Moreno
Eddie Ramos
Jose Rosas
Areli Sanchez
Angelica Cervantes
Andrew Sierra
Carlos Pérez-Campbell
Saúl Guizar Galvan
Nelly Tobon
Ciria Garcia
Hernan Rodriguez
Rosa Flores
Oscar Matamoros
Mayra Macias
Nevadans endorsing Kamala Harris today:
Rhina Moreno, President of Amigos Salvadoreños de Las Vegas
Maria Reyes, Latinx community leader
Saúl Guizar Galvan, President of Federación de Clubes Michoacanos Unidos de Nevada
Fermin Ramirez, Latinx community leader and member of Federación de Duranguenses
Nevadans who have previously endorsed Kamala Harris:
State Sen. Pat Spearman
State Sen. Joyce Woodhouse
State Sen. Melanie Scheible
Assemblywoman Sandra Jauregui
Washoe County Recorder Kalie Work
Clark County Commissioner Justin Jones
Las Vegas City Councilman Brian Knudsen
Gene Collins, former Nevada Assemblyman
Wendell Williams, former Nevada Assemblyman
Helen Foley, former Nevada State Senator
Michon Martin, President of R&R Partners and former Deputy District Attorney in San Francisco
Francisco Aguilar, Las Vegas attorney and entrepreneur
Nancy Ayala, Las Vegas attorney
Brian Ayala, Las Vegas small business owner
Atiya Boddie, Las Vegas attorney and Emerge Nevada alumna
Blake Boles, Army combat veteran
Angelica Cervantes, mother of 1 October victim and gun violence activist
Alex Dixon, former president of the Las Vegas Urban League Young Professionals
Tanya Flanagan, African-American community leader and fellow Alpha Kappa Alpha Sorority, Inc. sister
Rev. Leonard Jackson, African-American community leader
Li'Shey Johnson, 1 October survivor and gun violence advocate
LeVerne Kelly, African-American community leader and member of Links Inc. and Alpha Kappa Alpha Sorority, Inc.
Bryce Krausman, small business owner
Kurt Kuznicki, conservationist and public lands advocate
Jennifer M. López, community advocate
Joanie Lung, APIA community leader and small business owner
Bill Marion, principal at Purdue Marion & Associates and former senior aide for Sen. Harry Reid
Rose McKinney James, clean energy leader
Chris Miller, former chairman of the Clark County Democratic Party
Lesley Miller, former board member of Nevadans for Background Checks
Carlos Pérez-Campbell, former vice president of political affairs for the Hispanic Young Democrats of American and former president of Washoe County Young Dems
Stephanie Pizzoferrato, public school teacher and gun violence survivor
Bishop Bonnie Radden, faith leader
Eddie Ramos, President of Club Migrantes de Uruapan and Vice President of Fuerza Inmigrante (formerly COPAN)
Jose Rosas, President of Federación de Poblanos en Las Vegas
Areli Sanchez, Latinx community activist
Sanje Sedera, founder and former president of the Asian American & Pacific Islander Democratic Caucus
Janet Serial, chair of the Black Caucus of Washoe County and fellow Alpha Kappa Alpha Sorority, Inc. sister
Andrew Sierra, former College of Southern Nevada student body president
Larry Smith, founder and CEO of GFive Cultivation in Las Vegas
Carissa Snedeker, former first vice chair of the Democratic Party of Washoe County
Al B Sure, R&B singer and songwriter
Robert "Twix" Taylor, Las Vegas business owner and African American leader
Nelly Tobon, Latinx community activist
Kamala Harris, Harris Campaign Press Release - After a Packed Hispanic Heritage Month, Latinx Leaders Endorse Kamala Harris, Join Latinos Para Kamala Committee Online by Gerhard Peters and John T. Woolley, The American Presidency Project https://www.presidency.ucsb.edu/node/365398