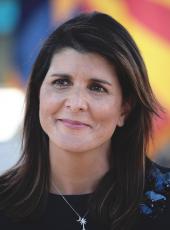 Haley Campaign Press Release - Republican Presidential Hopeful Nikki Haley to Appear in New Political Ad Attacking China
Des Moines Register by F. Amanda Tugade
A new campaign ad promoting Republican presidential candidate Nikki Haley's stance toward China is hitting Iowa's airwaves starting Tuesday.
Sponsored by SFA Fund, a federal Super PAC that supports Haley, the 30-second ad features the former governor of South Carolina and U.N. ambassador in a montage directly calling out China's leaders for their plans to "cover the world in Communist tyranny."
"Communist China won't just lose. Like the Soviet Union before it, Communist China will end up on the ash heap of history," Haley said in the ad, her remarks met with applause from a crowd.
The commercial ends with a voice overhead, dubbing the 51-year-old as a "strong leader for a strong America."
The political TV ad is a first for the SFA Fund and comes as Haley boosts her campaign efforts in Iowa.
Just two weeks after attending the Family Leadership Summit, Haley returned to Des Moines Friday for the sold-out Lincoln Dinner event.
Haley was among 13 Republican candidates who made a 10-minute presidential pitch to more than 1,000 guests. The following day, she held a town hall event for voters in Iowa City, which is two hours east of Des Moines.
Haley plans to return to the Hawkeye State this Sunday for a barbecue event hosted by U.S. Rep. Ashley Hinson, a Marion Republican, and the following weekend for the Iowa State Fair, which includes a "Fair-Side Chat" with Gov. Kim Reynolds and the Des Moines Register's Soapbox.
SFA Fund paid $7 million for the commercial to air on broadcast and cable TV in Des Moines and Cedar Rapids — and statewide on Fox News Channel and satellite TV over the next nine weeks. A similar seconds-long ad will run in New Hampshire during the same time.
Mark Harris, SFA Fund's lead strategist, told the Register that the second phase of Haley's campaign has begun and the new political ad is meant to help the effort.
"Unlike other political leaders, Nikki Haley understands that China's growing influence poses a monumental threat to the United States," Harris said in a news release. "Whether it's a farmer impacted by dubious Chinese trading practices, businesses worried about hacks or balloons spying on our servicemen and women, Americans can count on Nikki Haley to have their back."
Haley on the campaign trail has said that the U.S. needs to be tougher on adversaries such as China, Russia and Iran. Over the weekend, at a town hall event in Iowa City, Haley told more than 50 attendees that China is the "biggest national security threat" and listed some ways that the country has "completely infiltrated the U.S."
"China has been planning a war with us for years, and no one else is talking about it," she said during the town hall event Saturday at Wildwood Smokehouse & Saloon in Iowa City. "And that's not being dramatic."
"They are sending over fentanyl, knowing exactly what it's doing when it's killing Americans. They are giving millions of dollars to our universities so they can steal research and spread Chinese propaganda. They have Chinese front companies lobbying our Congress for the Communist Party."
Nikki Haley, Haley Campaign Press Release - Republican Presidential Hopeful Nikki Haley to Appear in New Political Ad Attacking China Online by Gerhard Peters and John T. Woolley, The American Presidency Project https://www.presidency.ucsb.edu/node/364264