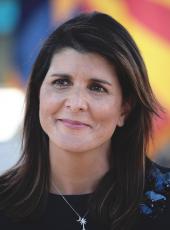 Haley Campaign Press Release - Nikki Haley's Iowa Leadership Team Boasts Republican Strategists and Local Politicians
Des Moines Register by Noelle Alviz-Gransee and Francesca Block
Nikki Haley announced Sunday who will spearhead her campaign in Iowa. Her team, a mix of young Republican strategists and state politicians, is touting the South Carolina Governor and U.S. Ambassador to the United Nations as a "new generation" ahead of the Iowa caucuses.
Haley is working to separate herself from an increasingly crowded Republican field.
Here's what you need to know.
Haley's work so far in Iowa
So far, Haley has hosted or participated in 24 grassroots events in Iowa, according to her campaign team. These events have ranged from large town halls to intimate meet-and-greets. In April, she launched the Women For Nikki coalition in Des Moines.
Despite focusing on grassroots campaigning in early primary states like Iowa and New Hampshire, Haley is still trailing Ron DeSantis and former President Donald Trump. She's made frequent jabs at DeSantis, calling him "Trump without the charm," though she doesn't often go after the former president by name. She did say it was a "mistake" that he chose not to attend Iowa Senator Joni Ernst's Roast and Ride in Des Moines the first week of June. When Trump called Jan. 6 a "beautiful day," Haley also shot back by calling it a "terrible day."
Haley has positioned herself as the "new generation," while framing her predecessors, including President Joe Biden, 80 and Trump, 76, as antiquated and out of date. Early in her campaign, Haley made headlines when she said politicians over 75 should be required to take "mental competency tests," even suggesting at a town hall in Dubuque in late May that Iowa Senator Chuck Grassley, 89, would take one "in a heartbeat." When asked at Ernst's Roast and Ride on June 3, Grassley told the Des Moines Register "I rely on the voters of Iowa to decide who's competent in an election, not some psychiatrist."
In her speeches, Haley emphasizes a litany of Republican issues, including cutting federal spending, reducing inflation, closing the southern border and opposing gun control. She also draws heavily on her foreign policy experience, referring to her time as U.N. ambassador and her track record confronting U.S. adversaries such as Russia and China on the world stage.
Haley said she would support whoever Republicans nominate for president, though she expects it to be herself.
"I don't play for second," she said during a CNN Town Hall hosted in Des Moines on June 4.
Who made it on Haley's team?
Bill Mackey
Mackey will be Haley's Iowa Political Director. He was previously a campaign manager for Congressman Zach Nunn's winning campaign in IA-03. He plans on building a true grassroots leadership team and a network of supporters to light up phone lines and put in the groundwork.
"We're running our caucus operation the Iowa way," he said. "Iowa is a word-of-mouth state and the way we are building out our team is reflective of that."
Iowa State Senator Chris Cournoyer
Cournoyer, 49 of Scott County is a "mom on a mission" according to her campaign team. She is pushing to win her competitive district and advance Iowa values in the senate, which include school choice, economic growth and regulator stability for businesses and safe communities. Cournoyer said Haley is, "a champion of the next generation and will renew our pride in America."
During a May town hall hosted in Davenport, Cournoyer's district, the state senator introduced Haley as someone who can talk about more than what are typically considered "women's issues" like education and childcare. With her previous experience, she said Haley can talk foreign policy, strong militaries, protecting the border and keeping America first on the international stage.
Cournoyer also spoke in support of Senate File 482 in March which prohibits people from entering a school restroom or changing room that does not align with their sex at birth, according to previous reporting.
"We need to ensure that all students feel safe at our schools so they can focus on learning," said Cournoyer. "We cannot sacrifice the rights and privacy of some students to accommodate the rights and privacy of others."
Iowa State Rep. Austin Harris
Harris, from HD 49, Appanoose County boasts a midwestern work ethic, balancing his family and duties for constituents, according to her team. Harris believes Haley will be an "exceptional president."
"Nikki Haley is the woman in the arena and the next generation leader America needs. Republicans need a nominee who can win the general election and defeat Joe Biden. She will be an exceptional president," he said.
Dawn Roberts
Roberts is a former Polk GOP Chair and Iowa Secretary of State nominee. She was married to the late State Party Chairman Steve Roberts. She is impressed with Haley's foreign policy experience and her time as governor saying she provides the leadership required in the White House.
Emily Sukup-Schmitt
Sukup-Schmitt is a millennial business leader, mother and community leader, according to the release. Haley's Iowa team says her work at the family business Sukup Manufacturing is crucial to keeping Iowa agriculture's prominence.
"Millennials like myself want a bold leader who will build a strong and proud America for decades to come. That's Nikki," Sukup-Schmitt said. "She's a fighter, a problem solver, and an outsider. She is the hardest-working candidate in this race, and anyone who underestimates her will be in for a big surprise."
Nikki Haley, Haley Campaign Press Release - Nikki Haley's Iowa Leadership Team Boasts Republican Strategists and Local Politicians Online by Gerhard Peters and John T. Woolley, The American Presidency Project https://www.presidency.ucsb.edu/node/364334