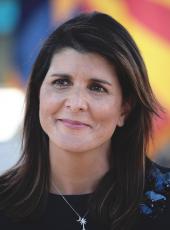 Haley Campaign Press Release - Nikki Haley to Visit Southern Border in Texas After Unveiling Plan to Tackle Migrant Crisis
Fox News by Adam Shaw
Republican presidential candidate Nikki Haley will visit the southern border in Texas next week, Fox News Digital has learned — as the former governor is unveiling her plan to handle the ongoing migrant crisis now into its third year.
Haley will become the first presidential candidate to visit the border when she travels to Texas on April 3. She will be accompanied by Rep. Tony Gonzales, R-Texas, and will make several stops between San Antonio and Eagle Pass. The area has seen some of the heaviest migrant traffic along the border in recent years as authorities have been besieged by the historic crisis.
There were over 1.7 million encounters at the southern border in FY 2021, and more than 2.3 million in FY 2022. FY 2023 has been on pace to eclipse those numbers, although numbers have dipped in January and February.
Republicans have attributed the crisis to the policies of the Biden administration — specifically the rolling back of Trump-era border protections, and an increase in "catch-and-release" of migrants into the U.S. The White House has attributed the crisis to a hemisphere-wide challenge and has called on Republicans to provide additional funding.
Haley, who is a daughter of legal immigrants, has been rolling out her plan to secure the border and tackle illegal immigration. That plan would see the recent funding for up to 87,000 IRS staff scrapped in favor of 25,000 new Border Patrol and Immigration and Customs Enforcement agents.
The plan would also mandate that businesses use E-Verify — which verifies a worker's citizenship and immigration status — in their hiring processes. As governor of South Carolina, Haley had signed a bill requiring all businesses in the state to use the tool.
Additionally, a Haley administration would cut funding to states that have been used to give money to illegal immigrants — such as the billions used by New York to cut checks to illegal immigrant workers who lost their jobs during the pandemic.
Her plan would also restore the Trump-era "Remain-in-Mexico" policy — which kept migrants in Mexico while their immigration hearings proceeded, instead of releasing them into the U.S. Republicans have credited that policy with reducing the pull factors which drew migrants north. Haley is also promising to end the "catch-and-release" practices of the Biden administration.
"We fix [the border crisis] by going back to Remain-in-Mexico, we fix it by stopping catch and release, we fix it by putting up an actual wall and closing our border," she said earlier this month on "One Nation with Brian Kilmeade."
"But we do it by doing what I did in South Carolina as governor," she said. "We did a mandatory E-Verify program that said none of our businesses could hire anyone that was in this country illegally. That is what got them out of South Carolina because there were no jobs for them to come to, that's what will get them out of this country, we've got to make sure none of our businesses hire anyone that is here in the country illegally, and we've got to start taking this seriously. Every state is a border state."
In addition to mandating E-Verify, the legislation she signed as governor also required police to check the immigration status of anyone they stop who they suspected may be in the U.S. illegally — following similar legislation in states like Arizona.
That bill also created an illegal immigration enforcement unit, made it illegal to transport or harbor illegal immigrants, made it a felony to sell fake IDs to illegal immigrants and barred illegal immigrants from state or local benefits. The bill faced significant pushback from immigration activists.
"Illegal immigration is not welcome in South Carolina," Haley said in 2011 when she signed the bill.
As governor, she also declined to accept Syrian refugees over concerns about vetting, and in 2014 said that South Carolina would not be accepting illegal immigrant minors in order to focus on children already in the state. When she served as U.N. ambassador during the Trump administration, the U.S. withdrew from the global compact on migration in part due to concerns that it would have restricted U.S. policy and impinged on U.S. sovereignty.
Illegal immigration and border security are likely to remain top topics in both the Republican primary season and the 2024 general election.
Nikki Haley, Haley Campaign Press Release - Nikki Haley to Visit Southern Border in Texas After Unveiling Plan to Tackle Migrant Crisis Online by Gerhard Peters and John T. Woolley, The American Presidency Project https://www.presidency.ucsb.edu/node/364311