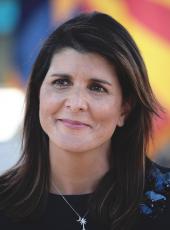 Haley Campaign Press Release - Nikki Haley Turned Republican Rumble Into Campaign Momentum: Polls
Washington Examiner by Misty Severi
Former South Carolina Gov. Nikki Haley has turned her time on the Republican debate stage this week into momentum for her 2024 presidential campaign, new post-debate polls have indicated.
Although Gov. Ron DeSantis (R-FL) and political newcomer Vivek Ramaswamy have largely been perceived as the debate winners based on polling, Haley has seen the sharpest rise in support overall, according to a new post-debate poll from the Washington Post, FiveThirtyEight, and Ipsos.
The survey found 29% of respondents overall, who are primary voters, said they would consider voting for Haley before the debate, and 46% said they would consider voting for her after it was over. Haley's favorability rating among GOP primary voters also increased from 51% before the debate to 65% post-debate, according to the poll.
Haley's standout moments during Wednesday's debate in Milwaukee, Wisconsin, centered on her clashes with former Vice President Mike Pence and Ramaswamy. Haley's clash with Pence was on the controversial topic of abortion, claiming the Republican Party should treat the issue with respect.
"Let's treat this like the respectful issue that it is and humanize the situation and stop demonizing the situation," Haley told Pence. She also called for a "consensus" on a federal abortion ban and questioned if the GOP could agree "that we are not going to put a woman in jail or give her the death penalty if she gets an abortion?"
Haley, who is also the former ambassador to the United Nations, clashed with Ramaswamy over foreign policy after he claimed he is not in favor of supporting Ukraine in its war with Russia.
"This guy is a murderer, and you are choosing a murderer," Haley said about Ramaswamy's previous comments about Russian President Vladimir Putin. "Under your watch, you will make America less safe. You have no foreign policy experience, and it shows."
Haley's ability to hold her own ground while also attacking her opponents earned her a high favorability rating from Wisconsin independents. After the debate, her favorability rating rose to 85%, up from 61% before the debate, according to a poll from Democratic firm Navigator. The same poll also found that 45% of the survey takers named Haley the winner of the debate, followed by 24% for DeSantis.
Despite her positive debate performance, Haley still has an uphill battle to secure the Republican nomination. Before the debate, Haley ranked No. 5 in the conservative race, behind former President Donald Trump, DeSantis, Ramaswamy, and Pence. Trump, who chose not to partake in the debate despite qualifying, is heavily favored to win the nomination.
Nikki Haley, Haley Campaign Press Release - Nikki Haley Turned Republican Rumble Into Campaign Momentum: Polls Online by Gerhard Peters and John T. Woolley, The American Presidency Project https://www.presidency.ucsb.edu/node/364759