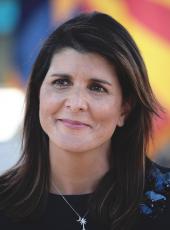 Haley Campaign Press Release - Nikki Haley Scorches Biden on 2-year Anniversary of Afghanistan Withdrawal: 'World is Less Safe'
Fox News by Lawrence Richard
Nikki Haley, a former South Carolina governor who is running for the 2024 presidency, said on Tuesday the world is "less safe" than it was two years ago before the U.S. military withdrew from Afghanistan, effectively handing over control of the country to the Taliban.
She also suggested President Biden should be personally held accountable for the withdrawal as 13 Americans – 11 Marines, one Army soldier and one Navy personnel – were killed during an attack on the Kabul airport in August 2021.
"Two years after the fall of Kabul and Joe Biden's botched withdrawal from Afghanistan, the world is less safe, our enemies are emboldened, and our allies are questioning America's commitments," a statement from her presidential campaign said.
"Two years ago, the world watched in horror as Joe Biden withdrew from Afghanistan in a way that betrayed our allies and emboldened our enemies," added Haley, also a former United Nations ambassador. "Disaster followed. Thirteen American service members were killed, China grew increasingly aggressive toward Taiwan, Russia invaded Ukraine, and terrorists took over Afghanistan with the help of American equipment and supplies."
She added: "To date, no one has taken responsibility for the botched withdrawal. No one has been fired, and no one replaced. The families of the 13 murdered service members can't even get basic answers about what happened. In a Haley administration, there will be no mistaking where we stand. Our allies will know we have their backs, and our enemies will fear American strength."
In August 2021, Biden oversaw the withdrawal of U.S. troops from Afghanistan, ending nearly a 20-year military presence in the country. The U.S. exit from Afghanistan prompted the Taliban to declare a total victory in the decades-long conflict.
Haley, who has become more vocal in her criticism of Biden as she seeks to be the Republican nominee to face him next November, previously slammed his administration for giving more than $2.35 billion in taxpayer dollars to Afghanistan as the funds likely ended up in the hands of the Taliban.
"Nearly two years after Joe Biden's disastrous withdrawal from Afghanistan, he continues to add insult to injury by throwing taxpayer dollars at the Taliban-controlled country," Haley said in a statement last week. "This is a terrorist regime that killed our troops and tortures its own people. When I'm president, we won't send one penny to terrorists and countries that hate America."
Last year, on the first anniversary of the U.S. withdrawal from Afghanistan, Haley warned "America's Newsroom" that President Biden was projecting a "weak" America on the world stage.
"The second that blunder happened in Afghanistan, it was the green light for every enemy we had. Then you saw Russia move into Ukraine. Then you saw China starting to threaten Taiwan," she said in 2022.
She added: "That was the day America became weak. That was the day the world became less safe. And it was all because of the decisions the Biden administration made."
While former President Donald Trump remains a clear front-runner for the 2024 Republican nomination, many of his supporters have expressed that they would be willing to back a different candidate.
A New York Times/Siena College poll published earlier this month found that 54% of Republican respondents are supporting Trump in his third presidential bid. However, 46% are still considering voting for a different candidate in 2024.
In addition to Trump and Haley, the crowded GOP primary field includes former Vice President Mike Pence, Florida Gov. Ron DeSantis, South Carolina Sen. Tim Scott, biotech entrepreneur Vivek Ramaswamy, North Dakota Gov. Doug Burgum and former New Jersey Gov. Chris Christie.
As of Monday, the only candidates who have qualified for the first primary debate are Haley, DeSantis, Scott, Ramaswamy and Burgum.
Nikki Haley, Haley Campaign Press Release - Nikki Haley Scorches Biden on 2-year Anniversary of Afghanistan Withdrawal: 'World is Less Safe' Online by Gerhard Peters and John T. Woolley, The American Presidency Project https://www.presidency.ucsb.edu/node/364329