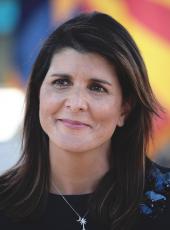 Haley Campaign Press Release - Nikki Haley 'Earned Herself a Second Look' After First GOP Debate
The Messanger by Stephanie Murray
A week before the first GOP debate, former South Carolina Gov. Nikki Haley visited the Iowa State Fair wearing a warning. Her T-shirt said in all capital letters: "UNDERESTIMATE ME, THAT'LL BE FUN."
The shirt, which she sells online for $25, underscores Haley's view of the crowded Republican primary. For the first six months of her campaign, Haley has been stuck in the middle of the GOP primary pack. Her support has hovered around 6% in national polls, far behind frontrunner and former President Donald Trump. She's raised less money than Florida Gov. Ron DeSantis and got less attention directly after the first presidential primary debate than newcomer Vivek Ramaswamy.
But Haley has seen a post-debate boost in her polling, fundraising and event attendance in the weeks since she went on stage in Milwaukee. Her supporters say it's a sign that she's been underestimated all summer.
"A lot of people noticed her," said Kim Rice, a co-chair of Haley's New Hampshire campaign and a former state lawmaker. "As we go further, it's going to be harder for them to ignore her."
In crucial New Hampshire, Haley is tied for second place with Florida Gov. Ron DeSantis, according to a new poll published by POLITICO. The NMB Research survey found that Haley and DeSantis each had 10% of support among likely GOP primary voters in the state.
Their support pales in comparison to Trump, who was more than 30 percentage points ahead of each of them in the poll with 47% of support. But a bump to second place is a notable data step up for Haley.
"She really knocked it out of the park at the debate and was able to introduce herself and throw herself into contention," said Iowa state Rep. Austin Harris, who was the first lawmaker in the state to endorse her. "She connected with folks on a big stage and showed that she has what it takes."
Haley also raised $1 million in the 72 hours after the first Republican debate, according to her campaign, capitalizing in part on her foreign policy face-off with Ramaswamy. The campaign says that she received more online grassroots donations in the 24 hours after the debate than any other single day, saw increased traffic to her campaign website and was the second-most searched candidate on Google.
Haley's share of support may have grown after the debate in Iowa, too, according to a survey published last week by Trump's pollster. Fabrizio, Lee & Associates found that 10% of likely Republican caucus-goers in Iowa supported Haley after the debate, while 9% of likely GOP New Hampshire primary voters said the same. DeSantis was only one percentage point ahead of Haley in New Hampshire at 10%, while his lead was wider in Iowa at 18%. (Trump was far ahead in those polls).
"To her credit, she said wait until the debate, that would change things and it did, at least a little, for now. All the buzz from the debate was about Vivek — mixed — and Haley exceeding expectations. Certainly no one's talking about DeSantis and (South Carolina Sen. Tim) Scott based on their debate performance. So she's earned herself a second look," said Fergus Cullen, a former chair of the New Hampshire Republican Party.
An earlier pre-debate Iowa poll had shown Haley behind Trump, DeSantis and Scott. The Des Moines Register/NBC News/Mediacom Iowa Poll conducted Aug. 13-17 found that she had 6% of support among likely GOP caucus goers in Iowa, tied with former Vice President Mike Pence.
The increased interest in Haley's campaign is coming at the right time, said New Hampshire Republican Bruce Berke, who advised John Kasich in 2016. The Iowa caucuses are only four months away. The New Hampshire primary is expected to happen soon after, although the date isn't scheduled yet.
"It's getting late early," Berke said. "They all need to get themselves defined and get themselves noticed in a positive way to begin to A, break out of the pack, and B, be seen as a reasonable alternative to Trump."
In the weeks since the debate, Haley has sought to build momentum with a campaign swing through South Carolina, an early primary state where she served as governor, and New Hampshire. Haley also rolled out a list of 10 New Hampshire campaign county chairs on Tuesday morning, one for each of the Granite State's 10 counties.
"As Nikki's message reaches more voters, her toughness and candor is resonating. People like what they're seeing," said Haley spokeswoman Olivia Perez-Cubas. "It's a marathon, not a sprint."
The pro-Haley super PAC Stand For America is also boosting her with a $13 million ad buy in Iowa and New Hampshire. Her campaign described a pair of China-focused ads using a fire emoji in a press release last month.
Meanwhile, some of Haley's rivals have lost their footing in the primary, Harris noted.
"Ramaswamy was kind of a flash in the pan. I think Tim Scott is kind of fading from the race and DeSantis has stumbled quite a bit. Nikki has found her moment and is seizing on it," Harris said.
Haley's debate stage battle with Ramaswamy over foreign policy has continued to escalate after he voiced support for freezing the lines of control to end Russia's war on Ukraine. Immediately after the debate, voter focus groups found that Ramaswamy to be the winner of the night, but Haley's boosters say his lift is temporary.
Ramaswamy's campaign took another swing on Tuesday with a dig about Haley's foreign policy views.
"I don't think we are worried about a woman who enriches herself and her family from her foreign policy. We already have that in the Biden family," Ramaswamy spokeswoman Tricia McLaughlin told The Messenger.
Haley, a former U.S. ambassador to the United Nations, was not the only candidate to flex her years of government experience on the stage. Pence slammed Ramaswamy as a "rookie" and former New Jersey Gov. Chris Christie got in on the action, too. Part of Haley's advantage over the others, Berke said, was her delivery.
"She's one of the adults in the room. I think she's respected, I think she has conservative credentials. And I think what's in her favor is that some of the other adults in the room, let's say Mike Pence, she has more pizzazz, more personality," Berke said. "That is going to benefit her here in these remaining dog days of summer and into the gray days of fall."
Nikki Haley, Haley Campaign Press Release - Nikki Haley 'Earned Herself a Second Look' After First GOP Debate Online by Gerhard Peters and John T. Woolley, The American Presidency Project https://www.presidency.ucsb.edu/node/364752