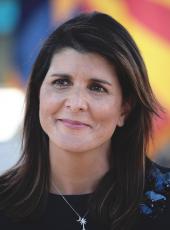 Haley Campaign Press Release - Nikki Haley to Discuss China and Fentanyl Crisis in New Hampshire
Washington Examiner by Misty Severi
Republican presidential contender and former South Carolina Gov. Nikki Haley will discuss China and the fentanyl crisis at a gathering in New Hampshire next week.
Haley, who has made the fentanyl crisis and China's ties to the crisis an important part of her campaign in New Hampshire, is making a swing through the northern state next week, which will also include two town halls. The event will be on July 26 in Manchester, New Hampshire, and will be a joint conversation on the crisis between Haley, former Republican state Rep. Victoria Sullivan, and Freedom Movement New Hampshire.
"Many New Hampshire families are reeling from the fentanyl crisis and Joe Biden's refusal to crack down on China," Ken Farnaso, a spokesman for Haley, told the Washington Examiner. "Nikki Haley is China's worst nightmare, and Xi Jinping knows it. We look forward to working with the Freedom Movement New Hampshire next week to talk about Nikki's plan to stop the flow of fentanyl."
New Hampshire is experiencing a growing trend of fatal drug overdoses, which caused more than 400 deaths in the state in 2022. In 2019, approximately 80% of fatal overdoses in New Hampshire included fentanyl, according to the Drug Enforcement Administration.
The former governor unveiled a plan in April to stop the flow of fentanyl if she's elected president next year, which included ending relations with the Chinese government until it stops its part in the crisis and securing the United States's southern border with Mexico.
Chemicals for fentanyl and other drugs are supplied by China, which gives them to Mexico, which mass produces liquid fentanyl and fentanyl powder that's mixed into fake prescription drugs, Haley said. But China claims the chemicals used are common chemicals often sold through normal trade.
"In international trade, it is the importer's duty to prevent such chemicals from falling into the hands of illicit drugmakers," the Chinese Embassy in Washington said in a statement last month. "As China and the rest of the world strengthen control of fentanyl-related substances, the fentanyl issue in the U.S. has been deteriorating and taking away even more lives. The U.S. needs to do some serious reflections on this."
Haley was the first presidential candidate to visit the border and rode along with Border Patrol to see the drug crisis firsthand. Her visit occurred in April.
The South Carolinian has hosted events on fentanyl in New Hampshire before, including a roundtable with Hillsborough County Sheriff Chris Connelly that focused on the drug crisis and crime in the state. Her swing through New Hampshire next week will also include two town halls, one in Barrington and the other in Hollis. Both will take place on July 25.
Nikki Haley, Haley Campaign Press Release - Nikki Haley to Discuss China and Fentanyl Crisis in New Hampshire Online by Gerhard Peters and John T. Woolley, The American Presidency Project https://www.presidency.ucsb.edu/node/364321