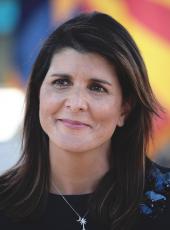 Haley Campaign Press Release - Nikki Haley to Champion Parents' Rights as She Unveils Education Vision This Week in NH
New York Post by Ryan King
GOP presidential hopeful Nikki Haley will champion parents' rights while laying out her education vision this week in New Hampshire with a group against gender-identity changes in classrooms.
Haley, the only Republican woman — and mother — in the 2024 contest, will collaborate with Moms for Liberty for a Wednesday town hall event in Manchester, whose public school system has been engulfed in litigation over allegations it has failed to notify parents about their child's gender changes.
The school system has argued that it has the right to keep that information concealed from parents.
"It is vital for parents to know where all the presidential candidates stand on issues like the weaponization of the federal government against parents and public school overreach at the expense of parental control," Tiffany Justice, co-founder of Moms For Liberty, said in a statement obtained by The Post.
Moms For Liberty, a parental-rights activist group, has drawn fierce flack from the leftover its crusade to combat gender ideology in classrooms and criticism of teachers' unions.
The Southern Poverty Law Center, a left-leaning civil-rights organization, designates Moms For Liberty a "hate group" for its position on LGBTQ issues and opposition to COVID-19 suppression policies, among other concerns.
"Hey, @SPLCenter, we're proud to stand with @Moms4Liberty," Haley wrote on social media last June. "It's NOT 'extremist' to save women's sports. It's NOT 'extremist' to make sure parents have a say in their children's education. It IS extremist to call a group of patriotic moms a 'hate group.' "
Haley previously delivered a speech at a summit hosted by Moms For Liberty in Pennsylvania in June.
Other GOP heavyweights such as former President Donald Trump, Florida Gov. Ron DeSantis, multimillionaire biotech entrepreneur Vivek Ramaswamy, and former Arkansas Gov. Asa Hutchinson also attended the Pennsylvania summit.
Haley has long been an advocate of transparency in education.
"There's only one mom running for president, and Nikki will do whatever it takes to fight for our children's future," said Ken Farnaso, spokesman for Haley, to The Post.
"That's why she's partnering with Moms for Liberty co-founder Tiffany Justice in New Hampshire this week to call for putting parents back in charge and making sure teachers educate — not indoctrinate."
In addition to parental rights concerns, Haley has advocated for more robust measures to boost children's reading abilities as well as more vocational education.
Nikki Haley, Haley Campaign Press Release - Nikki Haley to Champion Parents' Rights as She Unveils Education Vision This Week in NH Online by Gerhard Peters and John T. Woolley, The American Presidency Project https://www.presidency.ucsb.edu/node/364756