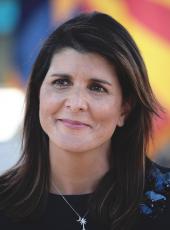 Haley Campaign Press Release - Nikki Haley Blasts Biden as 'Weakest President in Modern History' After Re-election Announcement
Fox News by Houston Keene
Republican presidential contender Nikki Haley blasted President Biden as the "weakest president in modern history" after his presidential re-election campaign announcement.
Haley, the former U.S. Ambassador to the United Nations, torched Biden in an exclusive statement to Fox News Digital after his campaign video announcement.
"Biden has been the weakest president in modern history," Haley said. "Under his administration, we've had a disastrous Afghanistan withdrawal, an unprecedented border crisis, the worst inflation in 40 years, and an emboldened enemy in China."
"It's time to retire Joe Biden and make America strong and proud again," Haley added.
Haley's campaign also dropped a new video blasting Biden and his presidency as failures while citing high inflation, the "wide-open southern border," and the "botched Afghanistan withdrawal."
The GOP presidential contender's comments came after Biden announced he and Vice President Kamala Harris would be on the same ticket again for 2024.
Biden and Harris released their official presidential announcement video on Tuesday, vowing to "finish the job" they started, to mixed reviews online and with the president's potential 2024 Republican challengers.
Americans online weren't fully convinced, however, with many expressing their trepidation on what finishing "the job" actually means.
"Finish what job, destroying America?" Wisconsin GOP Sen. Ron Johnson tweeted.
"After seeing the damage Joe Biden has done to America in the last two years, I am terrified to learn what 'finishing the job' looks like," journalist Jason Robinson wrote.
Democrats online were more thrilled about the second Biden-Harris ticket, with progressive super political action committee (PAC) Priorities USA executive director Danielle Butterfield celebrating the news in a Tuesday press release.
"Over the past two years, President Biden and Vice President Harris have boldly led our country through a devastating pandemic and an unprecedented economic recovery," Butterfield said. "From expanding affordable healthcare and fighting climate change to passing the largest gun safety law in 30 years, and even more, it's abundantly clear that President Biden is a dynamic force for change."
"Still, the work isn't over," Butterfield continued, claiming that every "day, extremist MAGA Republicans are plotting to further unravel the fabric of our democracy whether it be through constant attacks on the right to an abortion, the right to marry or the right to vote."
"President Biden has consistently proven his ability to fend off these insidious threats while navigating extreme polarization," she continued. "Now it's time to finish the job."
Nikki Haley, Haley Campaign Press Release - Nikki Haley Blasts Biden as 'Weakest President in Modern History' After Re-election Announcement Online by Gerhard Peters and John T. Woolley, The American Presidency Project https://www.presidency.ucsb.edu/node/364322