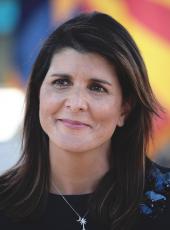 Haley Campaign Press Release - Nikki Haley Blames Biden for Creating Migrant Crisis as Title 42 to Expire, Pushes Plan to Secure Border
Fox News by Adam Shaw
Republican presidential candidate Nikki Haley is blaming President Biden for the ongoing migrant crisis at the southern border as border officials prepare for the ending of the Title 42 public health order this week — with Haley promoting her plan to secure the border if she were to become president.
"Never forget that Joe Biden created this crisis. He urged migrants to 'surge' the border," she said, referring to remarks Biden made as a presidential primary candidate.
Haley then noted Biden's reversal of Trump-era policies such as the Remain-in-Mexico policy and border wall construction — which Republicans have argued were working to bring down apprehensions.
"He caved to the radical wing of his party and reversed polices that were working. Now, Biden has turned every state in America into a border state," she said. "The first step to securing the border is to vote Joe Biden out. My plan calls for implementing a national E-Verify program, defunding sanctuary cities, stopping handouts to illegal immigrants, and firing Biden's new IRS agents and hiring 25,000 new Border Patrol and ICE agents."
Haley became the first announced 2024 candidate to visit the border last month, where she made a number of stops in Texas. She also used that trip to roll out her plan for the border, which includes the mandate for E-Verify. Haley had previously backed the program when she signed legislation as governor of South Carolina to require all businesses to use the immigration status verification tool.
"We did a mandatory E-Verify program that said none of our businesses could hire anyone that was in this country illegally," she said on "One Nation with Brian Kilmeade." "That is what got them out of South Carolina because there were no jobs for them to come to, that's what will get them out of this country, we've got to make sure none of our businesses hire anyone that is here in the country illegally, and we've got to start taking this seriously. Every state is a border state."
Her plan would also restore the "Remain-in-Mexico" policy — which kept migrants in Mexico while their immigration hearings proceeded, instead of releasing them into the U.S. Republicans have credited that policy with reducing the pull factors which drew migrants north.
Additionally, she has said she would cut funding to states that have been used to give money to illegal immigrants — such as the billions used by New York to cut checks to illegal immigrant workers who lost their jobs during the pandemic.
Haley's remarks come as Title 42 — which has allowed for the rapid expulsion of migrants at the southern border due to the COVID-19 pandemic — is set to expire on Thursday along with the COVID-19 national emergency.
Migrants are already flooding to the border, and numbers are expected only to surge in the coming days when the order ends as migrants believe they are more likely to be released into the U.S.
The Biden administration has been warning people not to make the journey, and has taken a number of actions, including cooperation with Mexico on deportations and an increase of penalties for illegal entry — but so far it does not seem to be dissuading migrants.
Nikki Haley, Haley Campaign Press Release - Nikki Haley Blames Biden for Creating Migrant Crisis as Title 42 to Expire, Pushes Plan to Secure Border Online by Gerhard Peters and John T. Woolley, The American Presidency Project https://www.presidency.ucsb.edu/node/364298