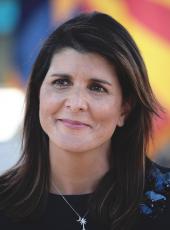 Haley Campaign Press Release - 'It's Time to Leave': Nikki Haley Knocks Republicans and Democrats After Mitch McConnell Freezes
USA Today by Ken Tran
WASHINGTON – Presidential candidate and former South Carolina Gov. Nikki Haley said Senate Republican Leader Mitch McConnell's, R-Ky., health incident, where he froze last week while speaking to reporters, was a symptom of a greater "congressional problem."
The 81-year-old Kentucky Republican's latest episode raised questions once again on whether some older lawmakers are facing health problems that could make serving Americans difficult. Haley, in an interview on CBS' "Face the Nation," pointed to 90-year-old Sen. Dianne Feinstein's, D-Calif., health problems as well, calling for "a younger generation" in Congress.
"At what point do they get it's time to leave?" Haley said. "They need to let a younger generation take over. We want to go and start working for our kids to make sure we have a strong national security, to make sure we have a stronger economic policy, to make sure that America is safe."
"And we can't do that if these individuals refuse to give up power," Haley continued. "This is not just a Republican or Democrat problem. This is a congressional problem. And they've got to know when to leave it. It's time to pass this down to a new generation of conservative leaders that want to take our country to a better place."
Haley reiterated her support for term limits in Congress and mental competency tests for "the entire Congress."
"Tell us where you were born, name four words that start with the same letter. How many grandchildren do you have? These are basic questions that anyone should be able to answer," Haley said.
During a news conference earlier this year at the U.S. Capitol, McConnell abruptly stopped speaking and stood silently for roughly 28 seconds. He was then escorted away from a lectern by his Republican colleagues.
The Senate minority leader will be consulting a physician prior to his next event, a McConnell aide, who asked for anonymity in order to speak candidly, told USA TODAY. McConnell was hospitalized in March for a fractured rib and concussion he suffered from a fall at a hotel in Washington.
Feinstein and McConnell have drawn similar criticism. The California lawmaker has suffered awkward moments on Capitol Hill since she returned to Washington, D.C. in May after a nearly three-month absence. Feinstein was hospitalized with shingles in March. She also suffered from encephalitis, or brain inflammation, as well as Ramsay Hunt syndrome.
Nikki Haley, Haley Campaign Press Release - 'It's Time to Leave': Nikki Haley Knocks Republicans and Democrats After Mitch McConnell Freezes Online by Gerhard Peters and John T. Woolley, The American Presidency Project https://www.presidency.ucsb.edu/node/364758