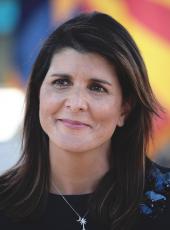 Haley Campaign Press Release - I'm Proud My Daughter Admires Nikki Haley
The Gazette by Emily Schmitt
My 7-year-old daughter watched Nikki Haley command the lawn, surrounded by hundreds of Iowa voters, speaking with purpose and pride.
"I want to be her when I grow up," she declared.
I am a mom. A wife. A business leader. A conservative. I am an Iowa Republican who believes our party deserves a presidential candidate our children can look up to. Perhaps that is old-fashioned of me. But this is Iowa. We like our old-fashioned traditions. We enjoy family dinners around the kitchen table. We go to church. We teach our daughters and sons to respect their elders and treat people with kindness.
The Republican Party used to be the party of character. In 2001, Peggy Noonan wrote an entire book about her time in the Reagan administration called When Character Was King. She shared stories that embodied Reagan's strength of character. Remember when those were qualities to be admired?
I have watched the parade of national candidates every four years with a sense of fatigue. I am tired of supporting "but" candidates. So-and-so is disrespectful but … No more buts. No more excuses. No more vindictive chaos. No more embarrassing drama.
In Nikki Haley, Republicans have a candidate they can relate to and look up to. Like so many Iowa women, she is a working mom, who balanced the demands of family life while she served in the state legislature and as governor. When you talk to her, you find out that she is a real person who is obsessed with her Clemson Tigers, loves music, and lights up when someone hands her a baby to hold.
As governor, she took on the establishment in South Carolina and made government more accountable, transparent, and conservative. She faced natural disasters and a mass shooting with decisiveness and compassion that saved lives. Her number one focus as governor was turning South Carolina's double-digit unemployment into a thriving jobs state because she knows that families can't survive without good jobs.
She also instinctively understands the human and emotional part of being a leader. When a South Carolina eighth-grader sent Gov. Haley a suicide letter describing the bullying she faced at school, Haley picked up the phone and called the young girl. Inspired by the writer, Haley launched an anti-bullying campaign that took her to schools across the state.
Haley is proof that women don't have to back down or pipe down. In this strident political era, she is proof that you can be principled and tough without losing yourself to the gutter.
In this age of identity politics, Haley embraces being a woman without making a victim of women. In fact, she sees her gender as a strength and point of pride. She heralds Iowa's many female elected leaders and likes to say "Iowa grows strong women." She's right. Iowans have a history of voting for tough-as-nails women from Gov. Kim Reynolds to Sen. Joni Ernst to our congresswomen. I am hopeful we will vote for another tough-as-nails woman in the Iowa caucuses next year. She is the best Republican candidate by far and one that can actually win a general election. It would be good for Iowa and America, and it is what we need.
Emily Schmitt is chief administrative officer and general counsel at Sukup Manufacturing Co.
Nikki Haley, Haley Campaign Press Release - I'm Proud My Daughter Admires Nikki Haley Online by Gerhard Peters and John T. Woolley, The American Presidency Project https://www.presidency.ucsb.edu/node/364271