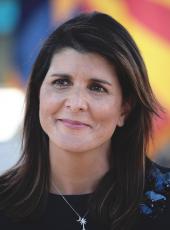 Haley Campaign Press Release - Haley Hauls $1 Million in 72 Hours After the First GOP Presidential Primary Debate
Fox News by Paul Steinhauser
Former ambassador and former South Carolina Gov. Nikki Haley says her Republican White House campaign has had a "fantastic response" since last Wednesday's first GOP presidential nomination debate.
"I think in the first 72 hours we raised a million dollars. We've had thousands of people volunteer. We've had a lot of people join the campaign. The phones are still ringing," Haley said on Monday in an exclusive interview with Fox News Digital.
Haley spoke minutes before holding her first event since last week's debate: a jam-packed town hall in Indian Lake, South Carolina. Haley's campaign said that roughly 1,000 people filled the auditorium, balcony and overflow rooms at a community event space in this northern South Carolina town along the border with North Carolina.
Pointing to the support, Haley said, "We're grateful. We're absolutely grateful. But it only keeps us more motivated because we have a country to save."
Haley, the only woman among the major candidates running for the Republican nomination, was the first contender on the stage at last week's Fox News-hosted debate in Milwaukee, Wisconsin, to come out swinging, targeting Florida Gov. Ron DeSantis, Sen. Tim Scott of South Carolina and former Vice President Mike Pence early in the debate for supporting legislation that raised the national debt.
And Haley, who served as former President Donald Trump's ambassador to the United Nations, was the first to target Trump over his perceived electability liability, arguing the former president was the "most disliked" politician in the country.
She also heavily criticized another rival, multimillionaire biotech entrepreneur and first-time candidate Vivek Ramaswamy over foreign policy. She repeated those comments at Wednesday's town hall, charging Ramaswamy's proposals were "completely naive"
Asked about the first showdown, Haley said in her interview, "You never know what you're going to get when you get on a debate stage. You never know what questions you're going to be asked. You don't know who's going to attack or not attack. You don't know. So it's all instinct and gut. And it's about communicating as much as you can, and that's what we tried to do."
"I think we only had eight and a half minutes in two hours. I would have loved to say more, but you take the most of the time that you're given to really get the substance, solutions and policy out there, and that's what I tried to do," she emphasized.
Haley appeared to enjoy a small bounce in some of the initial public opinion surveys conducted following the debate, but she remains in the single digits, and along with the rest of the large field of contenders remains far behind Trump, who remains the commanding front-runner for the nomination.
But Katon Dawson, a former chairman of the South Carolina Republican Party and Haley campaign adviser and surrogate, told Fox News that "what the Fox debate did for us as a campaign was made it all real and start coming together, and I think they [voters] understand the fact that Nikki's different. … You saw that difference on the debate."
Dawson emphasized that the first debate "put gasoline on the fire, and now we've got to continue to keep working."
Palmetto State based Republican consultant Dave Wilson told Fox News that "I think everybody in South Carolina who knows Nikki Haley saw the Nikki Haley that they know."
"The question is one of whether or not the nation has seen a Nikki Haley that they think that they can get behind," Wilson, who's neutral in the 2024 GOP presidential nomination race, emphasized.
Nikki Haley, Haley Campaign Press Release - Haley Hauls $1 Million in 72 Hours After the First GOP Presidential Primary Debate Online by Gerhard Peters and John T. Woolley, The American Presidency Project https://www.presidency.ucsb.edu/node/364750