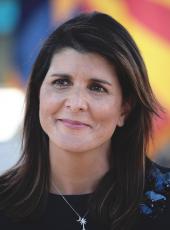 Haley Campaign Press Release - Don Bolduc: Nikki Haley Will Secure Our Border
New Hampshire Union Leader by Don Bolduc
At a recent town hall in Dover, presidential candidate Nikki Haley put a marker down on one of the biggest security issues facing America: "We will stop catch-and-release and start catch-and-deport."
She's right.
It's no secret that America has a crisis at its southern border — an economic, national security, and health crisis that is killing tens of thousands of Americans every year. New Hampshire is no stranger to this crisis. Opioid overdose deaths are spiking in our cities and towns and Joe Biden doesn't seem to care.
Over the two-plus years of his administration, Biden did everything to make the problem worse. He reversed Title 42, which kept the border closed during the COVID pandemic. He threw open the floodgates to drug cartels and laid down a welcome mat with "catch-and-release." His administration is more concerned with climate change and gender pronouns than the thousands of young Americans being taken too soon by fentanyl overdoses.
Biden's Department of Homeland Security Secretary Alejandro Mayorkas refused to answer "yes" or "no" when asked if there is a "crisis" at our southern border during a Senate hearing.
To quote Nikki Haley, Joe Biden "is asleep at the wheel."
Here's the good news. Nikki Haley has the experience and determination to secure the border and stop the flow of illegal immigrants and deadly drugs. As governor of South Carolina, Nikki didn't wait for the Obama administration to do something about illegal immigration. She tackled the issue head on. Only six months into her administration, Haley signed one of the toughest bills on illegal immigration in the country.
The bill expanded law enforcement's ability to check a person's immigration status and required South Carolina employers to use the federal E-Verify system to check the citizenship status of employees and job applicants. It also banned illegal immigrants from receiving state or local benefits and increased penalties for violating immigration law.
The Left went crazy, but Nikki didn't back down. When the Obama administration tried to stymie the state's E-Verify mandate, Nikki went to battle and denounced Obama's obstinacy.
"We are not going to be quiet about it," she said. "This is something we take seriously in South Carolina. I'm going to be loud about it… I'm the daughter of immigrant parents. They came here legally. They paid their time; they paid their price. They are offended by those that come here illegally. We are a country of laws. When we give up being a country of laws we are giving up everything this country is founded on."
Nikki knows what's at stake. Her parents came to America from India with nothing because of the promise of a better life. As she likes to say, she was able to live the American Dream because of their sacrifice. But that dream won't be available to future generations if we weaken the rule of law. And it won't be available if we don't stop the flow of deadly opioids from China and Mexico.
Nikki laid out her plan for securing the border at her New Hampshire town halls. She committed to enacting a national E-Verify program, hiring 25,000 new Border Patrol and ICE agents, and stopping handouts to illegal immigrants and sanctuary cities. Just one month into her candidacy, she visited the border to see Biden's border crisis firsthand. For those who are keeping count, it took Joe Biden two years to do that.
It's clear Biden doesn't care about or isn't capable of safeguarding American security. It's also clear that we need a leader who knows what we stand to lose. Nikki Haley has always been a problem solver. That's what she did as South Carolina governor and U.S. ambassador to the United Nations. And that's what she will do as president of the United States.
Nikki Haley, Haley Campaign Press Release - Don Bolduc: Nikki Haley Will Secure Our Border Online by Gerhard Peters and John T. Woolley, The American Presidency Project https://www.presidency.ucsb.edu/node/364286