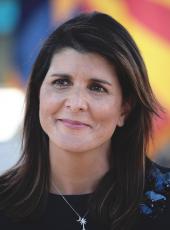 Haley Campaign Press Release - Biden Trails Haley, Polling Neck-and-Neck With Other Republicans
The Hill by Lauren Sforza
A new poll from CNN is providing bad news for the White House and President Biden, who scores just a 39 percent approval rating a little more than a year before Election Day.
Sixty-one percent disapprove of Biden's job performance in the poll, and his approval rating is down from 45 percent in CNN's polling at the beginning of the year.
The poll also finds former South Carolina Gov. Nikki Haley is the only GOP presidential candidate who is leading in a hypothetical matchup with Biden.
The CNN poll, conducted by SSRS, found that Haley led Biden 49 percent to 43 percent, while every other major Republican candidate remains neck-and-neck with him.
Those results are good news for Haley, a former United Nations ambassador under President Trump who is looking to build on a strong performance in the first GOP presidential debate late last month to challenge her former boss for the Republican nomination.
Haley is far behind Trump in polls of Republican primary voters, however, underscoring the uphill climb she faces.
Still, the CNN poll suggests she'd be a better general election GOP nominee against Biden than her competition — a potential talking point as she makes her case in Iowa, New Hampshire and other early primary and caucus states.
A couple other GOP candidates were ahead of Biden in the CNN head-to-head polling.
Former Vice President Mike Pence and Sen. Tim Scott (S.C.) both won 46 percent support to Biden's 44 percent support in head-to-head matchups.
Former New Jersey Gov. Chris Christie won 44 percent to Biden's 42 percent, while Florida Gov. Ron DeSantis was tied with Biden, with each getting 47 percent.
Entrepreneur Vivek Ramaswamy was behind Biden in a head-to-head matchup, 45 percent to 46 percent, while Trump held a 1-point advantage of 47 percent to 46 percent.
When asked about a potential rematch between Trump and Biden, 47 percent of respondents said they would choose the former president, and 46 percent said they would choose the current president; 5 percent said they would choose a different candidate, and 2 percent said they did not plan to vote.
None of those figures are good for Biden, who ends up trailing five of the seven GOP candidates in the polling.
A big hangup for voters with Biden appears to be the president's age. Biden is 80 and will turn 81 in November.
More than half of the Democratic voters polled are "seriously concerned" about his age, according to the CNN poll.
About 60 percent of Democrats expressed concern about Biden's ability to win the 2024 election if he clinches the Democratic nomination. Another 62 percent of Democrats and 76 percent of all respondents said they are seriously concerned about Biden completing a second term.
Biden is almost certain to win the Democratic nomination. His two main primary challengers are Robert F. Kennedy Jr. and Marianne Williamson, who have not won party support and are far behind him in polls.
But Biden's weakness in the poll is likely to increase Democratic anxieties over his strength as a candidate next year.
The poll found that 46 percent of voters surveyed said any Republican presidential nominee would be better than Biden in next year's election, while 32 percent said the sitting president would be a better choice than any of the GOP hopefuls.
In comparison, 44 percent said that any Democratic nominee would be better than Trump, while 38 percent say the former president is better than any Democratic nominee.
Among Democrats, the poll discovered that 67 percent would like to see the party nominate someone other than Biden — which is up from the 54 percent who said the same in March.
Out of those who would like to see a different candidate, 82 percent said they did not have any specific person in mind. Just 1 percent said that they would vote for either of Biden's 2024 Democratic challengers: Williamson or Kennedy, Jr.
The poll was conducted by SSRS from Aug. 25-31 among 1,259 registered voters and has a margin of error of 3.5 percentage points.
Biden is headed to India on Thursday for the G20 summit and will return to Washington at the beginning of next week.
While the poll will give Republicans confidence in beating Biden, they will have their own worries about Trump, the subject of two federal indictments in addition to other state charges.
Those legal fights have seemed to strengthen, not weaken, the former president when it comes to the fight for the GOP nomination. But the polling raises questions already in the minds of many GOP voters about whether he would be a weak general election candidate in the fall of 2024.
Nikki Haley, Haley Campaign Press Release - Biden Trails Haley, Polling Neck-and-Neck With Other Republicans Online by Gerhard Peters and John T. Woolley, The American Presidency Project https://www.presidency.ucsb.edu/node/364755