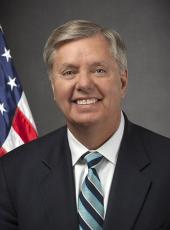 Graham Campaign Press Release - Mic: Lindsey Graham Slams Iran Nuclear Deal, Saying It "Empowers the Oppressors"
Lindsey Graham Slams Iran Nuclear Deal, Saying It "Empowers the Oppressors"

By Gregory Krieg

July 15, 2015
The multilateral deal announced on Tuesday to restrict Iranian nuclear activity in exchange for the phased removal of crippling sanctions has paved the way for a "Sunni-Shiite war from hell," Sen. Lindsey Graham, a South Carolina Republican running for president, told Mic as President Barack Obama defended the agreement at a White House press conference Wednesday afternoon.
...
Graham, who has promised to send at least 7,000 more American troops to Iraq for the purpose of aiding and training local forces in their fight against ISIS, is unconvinced. During a phone conversation from his campaign's New Hampshire state headquarters, Graham told Mic that, for Americans, the deal promises only "to make the future so much more unstable and uncertain."
Graham also had a message for the youth of Iran — those secular, post-revolutionary students and young professionals inclined to celebrate this apparent thaw in relations.
"To the young person in Iran, their initial reaction may be, 'Boy, sanctions are going be relieved and I'm going to have a better life," Graham said, but "I think what [the administration has] done to young people in Iran is empowered their oppressor. The chance of change coming to Iran is now a lot less."
Too thirsty for a deal? Obama has been forthright in acknowledging that a failed bargain here would be a stain on his presidency. If Iran has a nuclear weapon in two decades, he told the Atlantic's Jeffrey Goldberg in May, "it's my name on this."
Why then, being so plainly aware of the personal stakes, would Obama pursue a deal that Graham says is putting the region on the path to an atomic arms race?
"I think he wants a deal at all costs," Graham said. "I think he'll say leaving office he brought the Iranian nuclear program to its knees." Like many of his colleagues, the senior senator from South Carolina intends to vote against the deal in Congress, understanding Obama will veto any resolution meant to slow or scuttle the agreement.
Still, Graham hesitates to dismiss or deride the power of engagement and diplomacy. It is "always better than war, as long as you're dealing with the worst people with a philosophy and goal to make the world safer." The administration, he believes, was snookered, and the Iranians, given their long tenure as regional antagonists, arrived at the negotiating table with knives tucked in their belts.
...
A problem for Clinton? Graham says that will be a big ask, especially from liberal lawmakers with a heavy dependence on the support of conservative pro-Israel voters and donors.
Their ultimate decision, according to the three-term senator, pits Obama's legacy against "a lot of people's [political] future."
None more, he said, then a former Senate colleague, Democratic presidential candidate Hillary Clinton. It was during her time running the State Department, between 2009 and 2013, that American diplomats began to plant the seeds for the groundbreaking negotiations in Vienna. Late Tuesday, Clinton emailed her approval of the deal and made a detailed case on its behalf.
"This is a political nightmare for her," Graham said, not quite buying Clinton's public enthusiasm. "For her to support this deal, she'll have to do it saying it's good for our allies," despite the unremitting criticism and scorn out of Israel and grumbling from Sunni Gulf states like Saudi Arabia. "She's got to own this, and it's going to be very difficult for her to convince the American people this was a smart deal."
"That," he said, "will be up to her." Having delivered one final jab, Graham was off, ready to make his case — at five events in the span of just three hours — to the good people of Manchester, New Hampshire.
Lindsey Graham, Graham Campaign Press Release - Mic: Lindsey Graham Slams Iran Nuclear Deal, Saying It "Empowers the Oppressors" Online by Gerhard Peters and John T. Woolley, The American Presidency Project https://www.presidency.ucsb.edu/node/312559