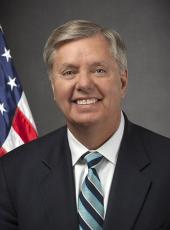 Graham Campaign Press Release - Graham Recaps Debate Performance On MSNBC AND FOX News: "I Would Take the Country in a New Direction"

Graham: "I Would Take The Country In A New Direction; We Need To Do Things Differently Than Obama. Electing His Secretary Of State Is Not The Change We Need."

(Morning Joe, "Graham: I don't think I'm an undercard candidate," MSNBC, 10/29/15)

Alexandria, VA - This morning, Senator Lindsey Graham joined Morning Joe on MSNBC and Bill Hemmer on Fox News' America's Newsroom to discuss last night's CNBC GOP Debate. Graham's performance was widely praised by both pundits and those on social media, many of whom called for Graham to be on the main stage in the next debate. In case you missed it, watch the full interview with Morning Joe here and America's Newsroom here.
Graham: "I Don't Think I'm An Undercard Candidate When It Comes To National Security"

(America's Newsroom, "Sen. Lindsey Graham hits high note at GOP undercard debate," Fox News, 10/29/15)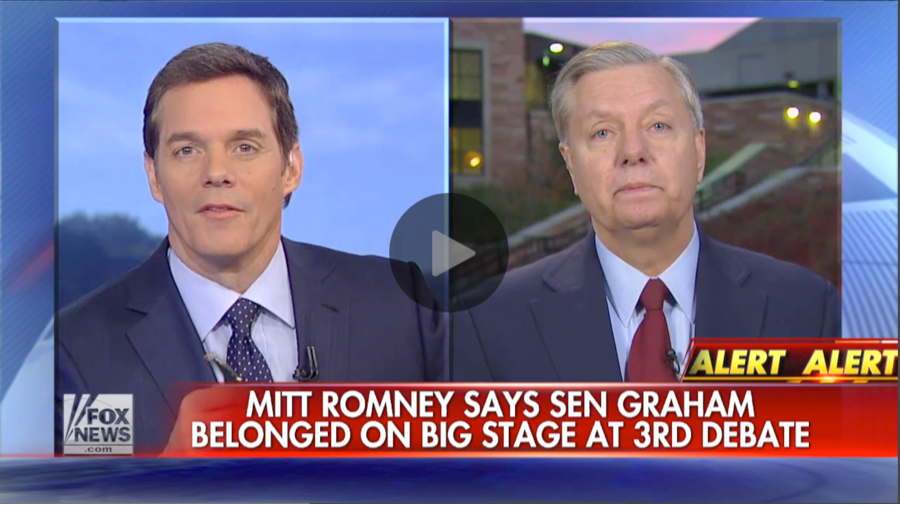 Graham: "I Could Beat Hillary Clinton. She Has Been Disconnected From The Average Person."

(Morning Joe, "Graham: I don't think I'm an undercard candidate," MSNBC, 10/29/15)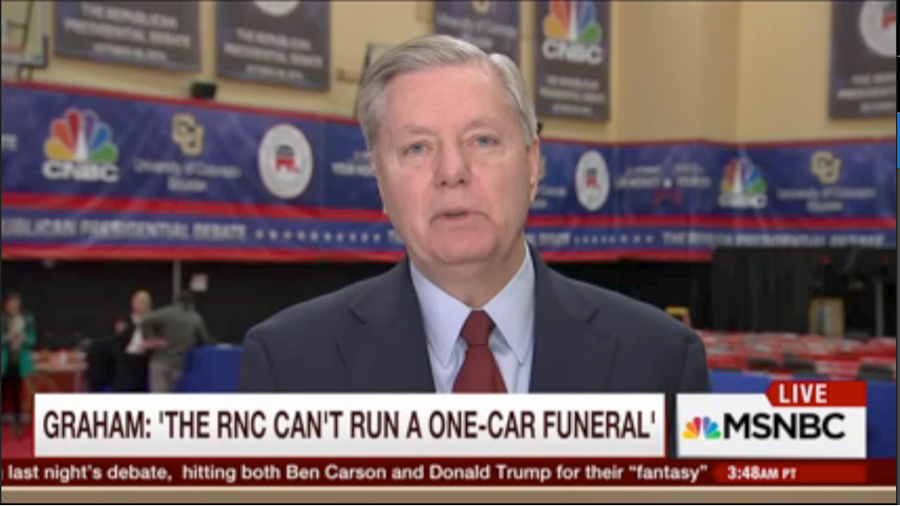 GRAHAM ON WHY NATIONAL SECURITY MATTERS IN AN ECONOMIC CENTRIC DEBATE:
Graham On America's Newsroom: "To The Middle Class The Best Thing I Can Do For You Is Grow The Economy."

"Well you know what 9/11 cost our economy? $3.3 trillion we spent after the attack by 19 hijackers who spent less than $1million planning and executing, and another 9/11 is on the way because Barack Obama is a miserable, incompetent Commander in Chief. Radical Islam is running wild. I've never seen more threats to the homeland. To the middle class, the best thing I can do for you is grow the economy."(America's Newsroom, "Sen. Lindsey Graham hits high note at GOP undercard debate," Fox News, 10/29/15)
Graham On Morning Joe: "I've Got A Plan To Win This War Against ISIL."

"There's a lot to talk about here. What would you do differently in Syria versus Obama? None of that comes out. We've got really good opportunities to dig into who we are as Commander in Chiefs. Are we really ready for this job?...Challenge us on foreign policy. You can criticize Obama, but what would you do differently? I've got a plan to win this war against ISIL." (Morning Joe, "Graham: I don't think I'm an undercard candidate," MSNBC, 10/29/15)
GRAHAM WENT AFTER HILLARY CLINTON AND PRESIDENT OBAMA:
Graham On America's Newsroom: "I Look Forward To Being In The Ring With Her... My Foreign Policy Is Completely Different Than [Hillary's] And Barack Obama's"

"I could beat Hillary Clinton. She has been disconnected from the average person. If you really do believe that you're flat broke after 8 years in the White House when your husband is President, man have you lost your way. When she said Republicans have exaggerated the VA problems, no we're not. They're real. So I look forward to being in the ring with her. Her definition of flat broke and mine are a bit different. My foreign policy is completely different than [Hillary's] and Barack Obama's, so yeah, I thought I did well last night articulating what the middle class is all about." (America's Newsroom, "Sen. Lindsey Graham hits high note at GOP undercard debate," Fox News, 10/29/15)
Lindsey Graham, Graham Campaign Press Release - Graham Recaps Debate Performance On MSNBC AND FOX News: "I Would Take the Country in a New Direction" Online by Gerhard Peters and John T. Woolley, The American Presidency Project https://www.presidency.ucsb.edu/node/312213