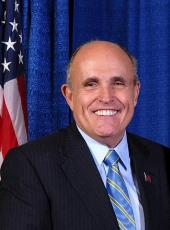 Giuliani Campaign Press Release - Strategy Memo: Mayor Giuliani's Ballot Strength and Conservative Voter Support
| | |
| --- | --- |
| To: | Team Rudy |
| From: | Brent Seaborn, Strategy Director |
| Date: | March 22, 2007 |
| RE: | Mayor Giuliani's Ballot Strength and Conservative Voter Support |
---
Growth in Mayor Giuliani's Ballot Strength

In early 2007, some people said that Mayor Giuliani would not run for President. On February 5th, Mayor Giuliani filed his FEC paperwork and legally declared himself a candidate for the Presidency. He ended this momentous day with an appearance on Hannity and Colmes.
Since the Mayor made his intention to run for President clear, we have seen notable growth in support for our campaign. Before February, 5th, we were leading in major media polls by an average of 5-points. Since February, 5th our lead has grown to an average of nearly 20-points.
Lead In Every Major Media Polls Over Nearest Republican

Opponent Before and After February 5th
| | | | |
| --- | --- | --- | --- |
| Organization* | Before 2/5 | After 2/5 | Difference |
| Gallup | 4 | 24 | 20 |
| Washington Post ABC | 7 | 23 | 16 |
| Fox News | 12 | 20 | 8 |
| NBC/Wall Street Journal | 5 | 14 | 9 |
| CNN | 6 | 16 | 10 |
| Time | -4 | 14 | 18 |
| Newsweek | 4 | 25 | 21 |
| Average | 5 | 19 | 14 |
The Mayor is Better Known to Conservatives than Some will Acknowledge

Many columnists and pundits question what will happen when Republicans "find out about the Mayor's views on social issues." Many of these stories are being generated by the same people that speculated that Mayor Giuliani would never run for President. Over the course of the last month, that question has been dispelled.
A recent Newsweek poll shows Mayor Giuliani with a 25-point lead among Republican and Republican leaning voters and a 30-point lead among social conservatives. Mayor Giuliani has a wider lead among social conservatives than he does among Republicans in general. Social conservatives already know who Rudy Giuliani is. In fact, more than 70% say they know "some or a lot" about him – these numbers are almost identical or better than other candidates in the race.
Social conservatives are already more likely than Republicans in general to know the Mayor's positions on key issues. Social conservatives are tuned in to the campaign and they like what they see in Mayor Giuliani.
According to recent analysis by Gallup Poll, Mayor Giuliani receives 47% of the votes among those that attend church "nearly weekly or monthly," leading his nearest opponent by 28-points. Mayor Giuliani's ballot share decreases to 31% among those that "attended church weekly" – yet he maintains a 7-point lead over his nearest opponent.
After reviewing other data, I have found similar evidence.
About half of Republican primary voters consider themselves to be "very conservative." Among those "very conservative" Republican voters, Mayor Giuliani generally maintains a lead.
Another interesting point, about two-thirds of "very conservative" Republican primary voters consider Mayor Giuliani to be a moderate or a liberal. Yet even with these voters, Mayor Giuliani holds a 5-point lead over his nearest competitor.
The fact is – most Republicans believe that Mayor Giuliani is a social moderate or liberal and Mayor Giuliani leads all major candidates in this race (even among "very conservative" Republicans).
There are, of course, some voters that will never vote for Mayor Giuliani, and we know that we will see polls tighten. But the "when voters find out about Rudy's record the sky will fall" notion is a myth.
Rudy's positions and record are already known among most Republican primary voters and are factored in to the current polling.
What We Can Expect

Discrediting the commitment of the Mayor to run for President did not work. Telling Republicans that the Mayor's positions on issues are unacceptable to primary voters does not work either.
As we have seen the next line of attack is aimed at discrediting the Mayor's character. This attack – while not surprising – should be treated for what it is – cheap and political.
We expect polls to tighten as we move in to spring – such is the nature of the political process. While we are realistic about our expectations going forward, we are also pleased with where we are today and are confident our current support among Republican primary voters is strong.
---
Gallup Poll (1/12-1/14; 3/2-3/4)

Washington Post/ABC Poll (1/16-1/19; 2/22-2/25)

Fox News Poll (1/30-1/31; 2/27-2/28)

CNN Poll (1/19-1/21; 3/9-3/11)

Time Poll (1/22-1/23; 2/23-2/26)

Newsweek Poll (1/24-1/25; 2/28-3/1)
Rudy Giuliani, Giuliani Campaign Press Release - Strategy Memo: Mayor Giuliani's Ballot Strength and Conservative Voter Support Online by Gerhard Peters and John T. Woolley, The American Presidency Project https://www.presidency.ucsb.edu/node/294991