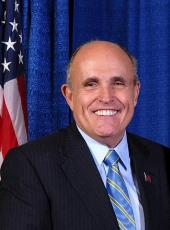 Giuliani Campaign Press Release - Mayor Rudy Giuliani Announces New Members of Political Team
The Rudy Giuliani Presidential Exploratory Committee today announced several additions to the Committee's political team, including Dr. Mark P. Campbell as Political Director, Rick Wiley as Deputy Political Director, Bill Stepien as National Field Director and Cary Evans as Senior Field Advisor.
"The political talent coming to the campaign is incredibly strong and part of an aggressive buildup that continues on each level of the organization," said Campaign Manager Mike DuHaime. "We have a great team in place working to advance the Mayor's positive vision for the country."
Giuliani Presidential Exploratory Committee Political Team
Dr. Mark P. Campbell has joined the Committee as National Political Director. Campbell, an internationally respected campaign strategist, brings to the Committee a reputation for winning tough, hard fought races and over two decades of political consulting and communications experience. Campbell's past clients have included Bush-Quayle, American Medical Association Political Action Committee (AMPAC), the Republican National Committee, the National Republican Congressional Committee, U.S. Senate and House campaigns, numerous GOP state committees, Bush-Cheney Florida recount, as well as state and local campaigns and pro-democracy campaigns abroad.
Rick Wiley has joined the Committee as Deputy Political Director. Wiley was most recently the Executive Director of the Republican Party of Wisconsin (RPW). Prior to taking this post, he served as the Political Director of the RPW from 2001-2004 and as the Executive Director of the 2004 GOP Victory effort – the largest Get-Out-the-Vote effort in state history.
Bill Stepien has joined the Committee as the National Field Director. Stepien served as the National 72 Hour Director at the Republican National Committee in 2005-2006. Prior to this he was the New Hampshire State Field Director for President Bush's re-election campaign in 2004. In 2003, Stepien managed New Jersey's only successful Republican State Assembly challenger campaign. Stepien has also worked for Public Opinion Strategies, a Republican polling firm, and on Bob Franks' campaign for United States Senate in 2000.
Jake Menges has joined the Committee as a Senior Advisor to the Political Department. Menges has experience consulting on political campaigns across the country. Menges ran Bill Simon's gubernatorial primary campaign in California and was the Political Director of Solutions America Political Action Committee. Most recently he worked for National Media in Alexandria, VA, one of the largest republican media firms in the nation.
Cary Evans has joined the Committee as National Field Advisor. Previously, Evans served as Regional Political Director for the Republican National Committee, where Evans oversaw ten states and territories, numerous targeted Congressional races for 2006 and organized the winning Victory program for the CA-50 (Bilbray) special election in June 2006. Prior to joining the RNC, Evans served as Regional Political Director for Bush-Cheney '04 after moving from Oregon as Field Director and Deputy Campaign Manager for Senator Gordon Smith (R-OR). Before joining the Smith team, Evans served as the Oregon State Director of the President's 2000 campaign and as the Executive Director and Finance Director for the Washington State Republican Party.
Giuliani Exploratory Committee Regional Political Directors
Chris Gulugian-Taylor previously served as the Victory Executive Director for Nevada in 2006. Prior to this, Gulugian-Taylor worked for the Nevada Republican Party as Executive Director and Political Director. Gulugian-Taylor has worked for the Republican National Committee in Washington, D.C., and in the field, serving as the Washington State 72 Hour Director for President Bush's 2004 re-election campaign.
K.C. Jones most recently served as Campaign Manager for Rick O'Donnell's 2006 campaign for Colorado's 7th Congressional District. Prior to that, Jones served as Deputy Associate Director in the Office of Presidential Personnel at the White House before working as the Republican National Committee's 72 Hour Director in Virginia. Previously, she served the Bush-Cheney '04 campaign in Iowa as Field Director and in Minnesota as Deputy Executive Director.
Matthew R. Mahoney served as former New York City Mayor Rudolph W. Giuliani's liaison to the White House Political Affairs Office from 2002 to 2007, helping to coordinate activities with Republican campaigns across the United States, including the Mayor's participation as a surrogate for President George W. Bush, as well as the 2000 and 2004 Republican National Conventions. From 1998 to 2002, Mahoney served as Deputy Director of Advance for the Mayor's Office of the City of New York. Recently, Mr. Mahoney served as a senior level advisor to Solutions America Political Action Committee.
Matt Mason started his political career while in college at Ohio University serving as campaign manager on races ranging from City Council to United States Congress. In 2000, Mason began his employment with the Ohio Republican Party, running the GOTV program in 2004 and 2006. After September 11, 2001 Mason joined the United States Marine Corps and has served one combat tour in Iraq in 2005.
Tyler O'Connor served as State Director for the Missouri Republican Party's 72 Hour/Victory efforts during the 2006 cycle. Prior to the campaign in Missouri, O'Connor worked as Political Director on Congressman Mike Rogers' (R-AL) successful 2004 re-election campaign.
Mike Roman most recently served as Director of Election Day Operations at the Republican National Committee during the 2006 election cycle and as the Pennsylvania Election Day Operations Director during 2004. Prior to 2004, Roman worked for the Pennsylvania House Republican Campaign Committee. Roman was also an Elected Ward Leader in Philadelphia from 2002 to 2006.
Mike Vallante was most recently the Chief Operating Officer of the California Republican Party. In California, Vallante directed the day-to-day operations of the Republican Party for the last three years. Prior to his current position, Vallante was President of his own public relations firm. He has served as Chairman of the Rhode Island Republican Party and as a Regional Political Director for the Republican National Committee.
David Watts previously served as Executive Director/Political Director of the Dallas County Republican Party from 1998-2001, where he was involved on local, state and national races. Watts worked for both Texas Senators Kay Bailey Hutchison and John Cornyn for Senate in 2002 (North Texas Field Director). In 2004 he was the Western Region Political Director in Missouri for Bush-Cheney '04. In 2006, Watts worked for the Illinois GOP.
Rudy Giuliani, Giuliani Campaign Press Release - Mayor Rudy Giuliani Announces New Members of Political Team Online by Gerhard Peters and John T. Woolley, The American Presidency Project https://www.presidency.ucsb.edu/node/295600