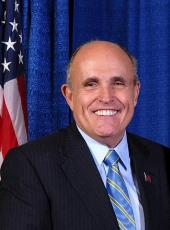 Giuliani Campaign Press Release - Mayor Giuliani Announces Massachusetts Leadership Team
The Rudy Giuliani Presidential Exploratory Committee today announced key Massachusetts Republican leaders who will lead Mayor Giuliani's efforts in the state. The team will be led by senior advisor to the Committee, former Governor Paul Cellucci, and includes a majority of Republican State Senators, as well as past and present leaders in Republican politics.
Joining the Mayor's statewide efforts as co-chairs are Senators Richard Tisei, Bruce Tarr and Michael Knapik. Brian Cresta, the former Chair of the Massachusetts Republican State Committee, will serve as Eastern Massachusetts Chairman. Brian Lee, former Massachusetts Senate Minority Leader from 1994 to 2005 and now Hampden County Clerk of Courts, will serve as Western Massachusetts Chairman.
Senate Minority Leader Tisei highlighted Mayor Giuliani's leadership in pledging his support. "Mayor Giuliani is a proven leader who has shown he can get the job done. He's a problem solver who delivered real results for New York City by promoting fiscal responsibility, reforming the welfare system and balancing the budget. I'm proud to be working on the ground in Massachusetts to help elect Rudy Giuliani as our next president."
Rudy Giuliani Exploratory Committee Communications Director Katie Levinson remarked, "It's an honor to have such valued Republican leaders in Massachusetts supporting Mayor Giuliani."
Rudy Giuliani Presidential Exploratory Committee Massachusetts Leadership Team
Brian Cresta, Former Chair of the MA Republican State Committee

Brian Cresta is a Republican leader in Massachusetts politics. He is the former Chair of the Massachusetts Republican State Committee and previously served in the MA House of Representatives. Cresta also worked as a Regional Administrator for the Department of Health and Human Services. During his time in the Bush Administration, Cresta was on special assignment with the Centers for Medicare and Medicaid Services (CMS).
Michael Knapik, MA State Senator

Michael R. Knapik is currently serving his seventh term as State Senator from the Second Hampden and Hampshire District. Knapik has been honored by several local and statewide organizations for his work in the Legislature. In 2006 he was recognized as "Legislator of the Year" by the Massachusetts Council of Human Service Providers. He has also been honored by both the Executive Office of Elder Affairs with the Eva Hester Award and the Massachusetts Council on Aging Coalition as "Legislator of the Year" for his contributions to issues concerning Massachusetts' senior citizens.
Brian Lees, Former MA Senate Minority Leader

Brian Lees was Senate Minority Leader from 1993-2006. Most recently, he ran and was elected Clerk of Courts in Hampden County.
Bruce Tarr, MA Senate Assistant Minority Leader

Currently serving as State Senate Assistant Minority Leader, Bruce Tarr has been a member of the Massachusetts General Court since 1991. Tarr has been named "Legislator of the Year" by several legal, government and civic organizations, and serves on various community committees and boards outside of the State Senate.
Richard Tisei, MA Senate Minority Leader

Senator Richard R. Tisei, currently serving his ninth term, was elected Senate Minority Leader in January of 2007 and is the longest-serving Republican among the current members of the Massachusetts Legislature. Throughout his tenure, Senator Tisei has been actively involved in many important policymaking decisions while serving on a variety of special commissions and conference committees.
Rudy Giuliani, Giuliani Campaign Press Release - Mayor Giuliani Announces Massachusetts Leadership Team Online by Gerhard Peters and John T. Woolley, The American Presidency Project https://www.presidency.ucsb.edu/node/295582