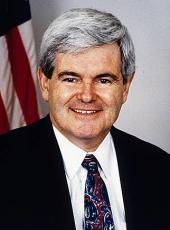 Gingrich Gingrich Campaign Press Release - Team of 52 Iowans Back Newt Gingrich for President
Des Moines, IA - Today fifty-two Iowans joined together to endorse Newt Gingrich to be the next Republican nominee for President of the United States.
"The support of these dedicated Iowans continues to show our solutions-based message is resonating with the people of Iowa and across the country. I am honored to have the support of these fine individuals and happy to continue to show the strength of this innovative and diverse team," said Newt Gingrich.
Newt 2012 County Chairs
John Lewis, Alamakee County

Corey Lorenzen, Black Hawk County

Randy Erickson, Buena Vista County

Nelson Crabb, Cerro Gordo County

Chris Dorsey, Clarke County

Jeff Evers, Clinton County

Cheryl Kramer, Dubuque County

Tina Shaw, Guthrie County

Marv Johnson, Hancock County

Ron Elmegreen, Jackson County

Marshall Critchfield, Jasper County

Amy Ruger, Kossuth County

Dan Seufferlein, Linn County

Jim Conklin, Linn County

Nik Rule, Mahaska County

David Klingensmith, Plymouth County

Julie Evans, Polk County

Darrell Kearney, Polk County *

Richard Rogers, Polk County

Brad Utter, Scott County

Brian Dumas, Scott County

Jennifer Dumas, Scott County

Jeremy Freeman, Story County

Keith Caviness, Wapello County

Larry Hughes, Warren County

Chris McGonegle, Webster County

Darrell Braumhagen, Winneshiek County

Jason Geary, Woodbury County
Newt 2012 Elected Officials
Former Senator Larry McKibben, Marshall County

Senator Shawn Hamerlinck, Scott County

Senator Randy Feenstra, Sioux County

Senator James Seymour, Harrison County

Rep. Jeff Kaufmann, Cedar County / Iowa Newt 2012 Co-Chair *

Rep. Linda Upmeyer, Hancock County / Iowa Newt 2012 Chair *

Rep. Josh Byrnes, Mitchell County *

Rep. Chris Hagenow, Polk County

Rep. Bob Hager, Allamakee County
Mayor Robert Andeweg, Urbandale

Ray Hoffman, Former State Chairman of the Republican Party of Iowa

Former Congressman Greg Ganske, Polk County *

Former Congressman Fred Grandy *
Newt 2012 College Republicans
Natalie Ginty, University of Iowa College Republican, Chair; State Chair of IFCR *

Stephen Quist, Iowa State University College Republicans, Chair

Jeremy Freeman, Iowa State University

Jeremy Danielson, Drake University Law School Republican Chair

Colin Tadlock, IFCR Vice Chair and Central College Republican Chair

Francisco Reveriano, Grinnell College Republican Chair
Newt 2012 Business Leaders
C. Edward Brown, CEO, The Iowa Clinic P.C. *

Walt Wendland, Golden Grain Energy

Dan Ochylski, Managing Director of Growth Financial Partners

Dean Kleckner, Former Chair of the Iowa Farm Bureau

Charlie Gruschow, Des Moines Tea Party Founder *

Pat Bertroche, MD, Former 3rd Congressional Candidate
* Notes previous endorsement.
Newt Gingrich, Gingrich Gingrich Campaign Press Release - Team of 52 Iowans Back Newt Gingrich for President Online by Gerhard Peters and John T. Woolley, The American Presidency Project https://www.presidency.ucsb.edu/node/298094