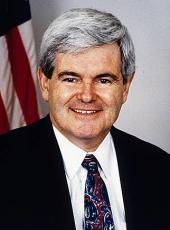 Gingrich Campaign Press Release - Tea Party Nation Founder Endorses Newt Gingrich
Another high profile Tea Party endorsement for Newt
Tea Party Nation founder Judson Philips announced today in a blog post that he is endorsing Newt Gingrich for President.
In his post, Philips outlines his criteria for choosing a candidate:
In choosing who is my candidate, there are some criteria I look at. First, the candidate must be electable. We can have the best candidate in the world but if they are unelectable, it does not matter. The candidate must be conservative... Finally, the candidate must have the vision to put forward plans to dismantle the massive government bureaucracy that we have seen grow under both Republican and Democrat administrations.
He continues:
If you have seen the GOP debates, Gingrich has been the best debater. He does really well in that format and he looks Presidential. Gingrich has got the experience. He has been in Congress and rose to the Speakership. When Gingrich entered Congress, the Republicans were a minority. The Democrats treated the Republicans with contempt and the GOP leadership was perfectly happy to be in the minority. Gingrich changed that. He was the man with the vision to make a Republican majority possible.

Gingrich is the candidate who has the vision to fundamentally change the Federal Government. Gingrich has the unique capabilities to be the field general. He is the big idea man, much as Ronald Reagan was.

Gingrich against Obama is a great contrast. He has a track record of accomplishments and has worked at the national level. Gingrich can rightfully claim credit for everything from welfare reform to balancing the budget. Obama can offer nothing against him...

Newt Gingrich is the right candidate to not only help us take this country back from socialism, but roll socialism back.

I am thrilled to endorse Newt Gingrich to be the Republican nominee and the next President of the United States.
This endorsement from a prominent Tea Party leader follows another recent endorsement from Allen Oslon, Chairman of the Columbia Tea Party, who announced his endorsement of Newt and that he was stepping down from his position with the organization in order to help get Newt elected.
Newt has been a friend and booster of the Tea Party movement from the beginning.
Since the origins of the movement in February 2009, Newt has met with tea party leaders in 41 cities, from California to Connecticut.
He has spoken personally with approximately 3,000 tea party activists.
He also spoke at the first ever Tax Day Tea Party Rally in New York City to a crowd of 13,000 people.
As part of the Newt 2012 campaign, Newt launched Team Ten – a grassroots online tool on Facebook to assemble ideas from Tea Party activists throughout the country on how to return power back to the states and the people, as the Tenth Amendment instructs.
Newt Gingrich, Gingrich Campaign Press Release - Tea Party Nation Founder Endorses Newt Gingrich Online by Gerhard Peters and John T. Woolley, The American Presidency Project https://www.presidency.ucsb.edu/node/298410