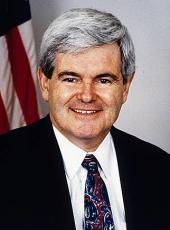 Gingrich Campaign Press Release - Students Unite with Newt Gingrich and His Social Security Plan
Atlanta, GA - A coalition of over 200 college chapters across the country have unified behind Newt Gingrich's Young Americans for the Right to Choose a Personal Social Security Account.
According to the page on Newt.org, "Today, it is time for young Americans to assert their right to own something else vital: their retirements and financial future. The way to do this is by introducing an optional personal savings account alternative to Social Security." 
Gingrich's plan calls for an optional personal savings account. The plan is based on the models in Chile and Galveston County, Texas, both of which have shown higher market investment returns than their equivalent government plans. Gingrich estimates that the system will be able to eliminate the deficits facing the current system.
 "I'm thrilled to have so many concerned college students join this coalition, and I look forward to having them help lead the conversation on reforming Social Security," Gingrich said.
"President Obama's threats to withhold Social Security checks as a political bargaining chip are the clearest illustration yet of why giving younger Americans the right to a personal account that no politician can control is a moral imperative. We need to take retirements and the financial futures of young Americans out of the hands of Washington bureaucrats, and give them back to the people."
The student-led initiative, spearheaded by Students with Newt 2012, includes 4 national co-chairmen, 6 regional chairs, and is setting up committees in all 50 states. All 200 college campuses are recruiting new members through "with Newt" QR codes, which bring them to the Social Security page on Newt.org to join the coalition.
"The momentum keeps building," said Kevin Preskenis, the National Coalitions Coordinator for the Gingrich campaign. "Newt is a candidate with big ideas, and we're thrilled that thousands of college students can be a part of the conversation on personal Social Security accounts with him," Preskenis said.
The chapters will continue to stay engaged through conference calls, debates, and meetings with Speaker Gingrich, policy experts, and College Republican and College Democrat chapters.
"Our generation and future generations will be impacted by this issue, and we finally have a candidate who will put Social Security back on the right path," said Todd Carney, national co-chairman, who left his board position with Students for Rick Perry to join Students with Newt.
Newt Gingrich, Gingrich Campaign Press Release - Students Unite with Newt Gingrich and His Social Security Plan Online by Gerhard Peters and John T. Woolley, The American Presidency Project https://www.presidency.ucsb.edu/node/298090