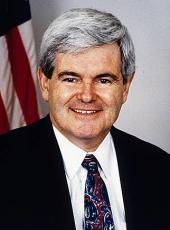 Gingrich Campaign Press Release - Sonny Perdue and Zell Miller to Serve as National Co-Chairs for Newt 2012
Governor Nathan Deal to Chair campaign in Georgia, Assist with 10th Amendment Project
Atlanta, GA – Three of Georgia's top conservative leaders will help lead Newt Gingrich's just launched campaign for President. Former Georgia Governor Sonny Perdue and U.S. Senator Zell Miller will serve as national chairman for Newt 2012 and Governor Nathan Deal will chair Newt 2012 in Georgia. The three leaders bring decades of conservative leadership credentials to Newt Gingrich's campaign to find the right policies and the right results for America.
"I'm proud to have three very important Georgians helping lead our campaign," said Gingrich. "Sonny, Zell and Nathan are good friends and have always provided good counsel. They will be three very important voices as we talk to the American people about the right policies we need to win the future."
"America, at this critical juncture, needs a leader who has the discernment and understanding of where America needs to go, and the courage and leadership to implement that vision," said former Governor Sonny Perdue. "Newt Gingrich has what it takes to do both."
"Newt is a leader," Zell Miller said, "Newt's election as president is critical to the future of our country. We need a leader who has proven they can make big things happen. You don't do big things by being a wall flower."
In addition to his efforts in Georgia, Governor Deal will be a liaison to other Governors for the 10th Amendment Enforcement project. The effort will identify areas where the federal government has overstepped its bounds or imposed burdensome regulations that restrict job growth.
"There is a lot going on in Washington that can be done a lot better if left to the states," Gov. Deal said. "Newt understands the role the federal government should and shouldn't be playing in our lives."
Zell Miller was Georgia's 79th Governor serving from 1991 to 1999 and a United States Senator from Georgia from 2000 to 2005. In 2003, Sonny Perdue became Georgia's first Republican Governor elected in over 150 years. Governor Nathan Deal was sworn into office in January 2011, previously he served in the U.S. House of Representatives from 1993 to 2010
Newt Gingrich, Gingrich Campaign Press Release - Sonny Perdue and Zell Miller to Serve as National Co-Chairs for Newt 2012 Online by Gerhard Peters and John T. Woolley, The American Presidency Project https://www.presidency.ucsb.edu/node/298377